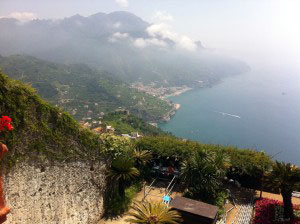 There are few more beautiful places in the world than the Amalfi Coast. Ancient villages vie with lemon groves for the prime real estate on the cliffs – with views that take you over the rooftops, through the fresh laundry flapping in the breeze, out to the blue sea. Truly gorgeous.
But when you try to walk in those quaint little streets, all you can see over the heads of the tour groups are stores selling t-shirts and limoncello. That's the trade-off – at least in the big-name towns like Amalfi, Ravello, Positano, and Sorrento – there's truly beautiful scenery but you're going to have to share the view with a lot of other people. A lot of other people.
We stayed in Amalfi in a lovely, funky hotel up above the town – The Villa Lara. We ate in town and very well. My favorite was a place called Marocco where I had spaghetti with shrimp and lemon. I'd never tried that combination before and Amalfi is the place for it. The local lemons are famous – and unbelievably large – like the size of your head – and they carry a lot of taste. That's it, I think: just toss the pasta in oil and lemon (probably juice and a little grated peel) and toss in the shrimp. It was totally satisfying with a glass or two of the local white wine.
The restaurant has an outside garden, which is crowded right up against a little church. During the pasta course we listened to choir practice and during our green salad, six young men exited the church with a coffin on their shoulders and picked their way carefully through the diners. Jill felt certain from the way they were carrying it that the coffin was empty – for the moment.
We splurged on an afternoon trip to Ravello and had lunch in one of the fancy hotels there – The Hotel Rufolo. Ravello is way up on the mountain, so the views are even more dramatic than in Amalfi. Our table was perfectly placed for the full effect. We had salad with fennel, walnuts and orange slices and lobster pasta; I had prosecco. Very, very nice.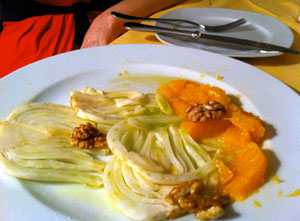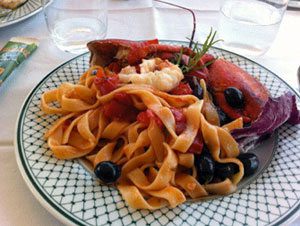 On our way down to Amalfi, we stopped for one night in Sperlonga, where I had spent a weekend thirty-seven years ago with some pals I was working with in Rome. It's a beach town halfway between Rome and Naples and also famous as the area with the buffaloes that produce the famous mozzarella di bufala. I had told Jill about it and I wanted her to see it. I also wanted to find a particular restaurant that was so good that I remember the meal in detail thirty-seven years later.
Well, the town is no longer the sleepy little beach town, and the restaurant in my memory has long given up its space to video arcades and fast-food stands, but the beach is still one of the best I've seen. We stayed up above the fray in a very nice hotel – The Moresco Park – and our host recommended a place for dinner called Rocco. It's on the beach, but a little ways out of town and he told us that Rocco was one of the few places that kept up the old traditions.
We drove down to the beach, parked near Rocco, took off our shoes and walked for a long time in the sand and watched some surfers doing their thing. We walked until we were hungry and then slipped our sandals back on and made our way up the steps to Rocco. I had spaghetti alle vongole to start and then we ordered a whole grilled fish to share – a local beauty called a dentice that could have fed four.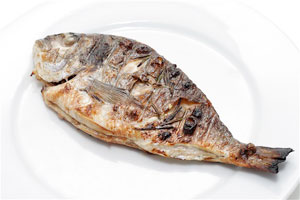 When the spaghetti came I asked the young waiter for a little pepperoncini – hot pepper – which I like on my vongole. He looked at me for a moment and then brought it to the table.
When I finished the pasta, Rocco himself brought out the fish – perfectly grilled – and boned it expertly. He served Jill first and then, as he put down my plate, he said, "Why don't you put some pepperoncini on the fish? I'm sure you'll like it very much."
Well, I know a put-down when I hear one. He had been offended by my putting hot pepper on his pasta and he wanted to make sure I knew how little he thought of me.
But fear not – I still enjoyed my fish. A true gourmand cannot be deterred by a mere restaurateur's contempt. I've been insulted before – in restaurants from San Francisco to Mumbai.
I can take it. I'm a pro.
Michael Tucker is an actor and author whose third book is the recently published Family Meals: Coming Together to Care for an Aging Parent
. You can read more about his food adventures on his blog Notes from a Culinary Wasteland.