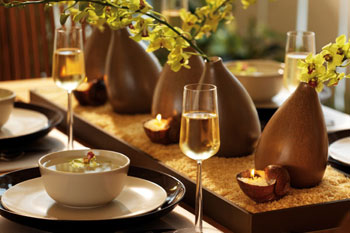 There are as many 'personal chefs' in Palm Beach as there are swimming pools. I see them in their white chef coats and Mario Batali crocs at Publix Super Market chatting each other up as they fondle the passion fruit. I have had to resist the urge to run up to them and say, "I personally know Wolfgang Puck … personally!"

Palm Beach residents love to dine together. Restaurants flourish, but elegant dinner parties reign! They always have.

So, what does one do in a town where an intimate sit down dinner is for forty people? If one is a Texas DNA challenged, Left Coast Malibubi, "Y'all come on over and I'll cook up something" works. During the season of Madoff, a small home cooked dinner - while not the rage – does earn a few sophisticated nods of approval. Besides, it gives me a certain pleasure to psychically push aside the personal chefs at Publix so that I too can fondle the passion fruit with the same sense of authority!

Trying to find something different that is relatively easy to do at the last minute and actually tastes good is the goal. I have gone through the various BBQ and Mexican dinner menus, all of which were adored by my if-I-see-one-more-beef-tornado-on-my-plate-I-will-scream friends. And, I do relish their fawning looks of gratitude over the unexpected but delicious déclassé fare!