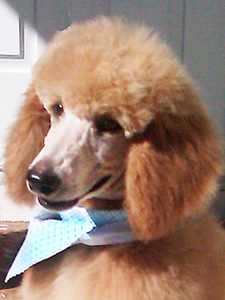 My name is Farleys D Destino Del Lago, but friends call me Charlie.
Being a puppy of a certain age has been challenging. There is this "potty outside" thing that is constantly being hammered into my being - not to mention sit, stay, off, no bark, and hearing my name, "Charlie" said as though I was in really deep trouble…(something about humping… ?) I guess you all know the drill.
But, tonight the education came to fruition; I went to my first restaurant where I finally got it. And, I had a date with a little cutie named Lucy, not to mention Comely Sonja - the hostess that greeted us. Wow. She made me feel most welcome among all the 'beautiful' people. Did I say we dined en plein air (Hey I am a poodle puppy… French Poodle puppy)
Apparently, this was no everyday kinda place - this was Daniel Boulud's famous Café Boulud at the Brazilian Court in Palm Beach and they love, LOVE dogs! Chef Jim Leiken (who came down from New York's Daniel) has created a dog friendly cuisine with such items as, for example, an 8oz prime beef patty (they hold the bun and onion) and little lemon Madeleine Cookies with just a hint of yummy powdered sugar).