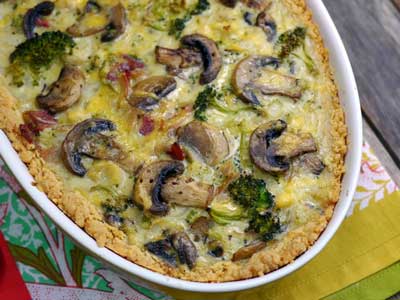 I'm calling this a pie. Yes, it resembles a quiche, but I prefer to call it a pie. It seems more manly that way. Plus I wanted a more rustic looking version that does not require rolling anything out or having to make actual dough.

The crust here is cheese based, you just press it in the pan and it's ready to go...no skills required. While quiche is often served for just breakfast or brunch, this is definitely perfect for dinner too.
It's not eggy or flavorless. In fact it's bursting with all kinds of tastes and works great for leftovers. Enjoy this one over the weekend!