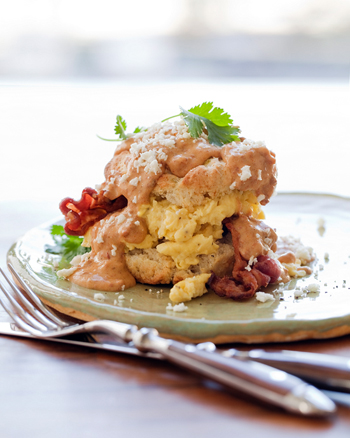 Or the Uncondensed Title: Green Chile, Parmesan and Black Pepper Buttermilk Biscuits with Chorizo & Chipotle Gravy. Whew!
While I can overeat with the best of them, a Hearty Breakfast Boy I am not. It slows me down and makes me feel sluggish which is why I usually stick to a banana and some peanut butter. Sometimes oatmeal, occasionally an omelette.
These rules change if we're talking brunch, though. My little peckish early morning hunger turns into a full-fledged giant appetite after I've been up for a few hours. Or automatically after 10am.
This recipe is something Adam came up with last Sunday, the first lazy day we've had together in quite some time. He just returned from 17 days in Wisconsin, working on a project while freezing his ass off. He had an idea for changing up his biscuits and gravy to which I replied "Oh gosh, I'm not sure about that. I think you'll have to make it so I can try it." Of course I was sure about it, you can't really mess up biscuits and gravy, can you?