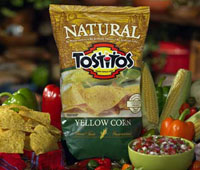 I can't help it. I really can't.

When I go into a grocery store and I put an avocado in my cart, I think "Ohmigoshwhatif someonecomesoverandwantschips too?" And so I go and buy chips. Two kinds. Because what if a friend has a craving for blue corn instead of yellow? G-d forbid I should not have blue corn tortilla chips in the house. That's thought one.

Thought two is more like "hmm, never heard of that before. Maybe it would add a nice kick to stir-fry." And so I put the odd looking, non-English labeled jar into the cart, too.