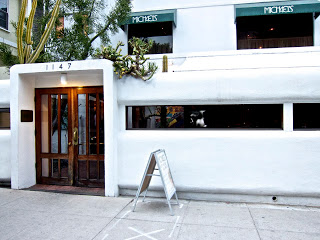 Mother's Day is a special time to appreciate our mothers and the mothers of our children. A leisurely meal in a pleasant surrounding is the perfect way to celebrate the women who are so central to our lives.
Brunch is the preferred meal for Mother's Day, when a sunny late morning adds to the celebration.
Michael's Restaurant (1147 Third Street, Santa Monica, CA 90403; 310/451-0843), located on Third Street in Santa Monica, half a block north of Wilshire, has an elegant dining room with the relaxed feeling of a private home. Surrounding diners at the rear of the restaurant, a lush patio garden obliterates all traces of the busy city a few feet away.
By staying focused on farmers market fresh, seasonal ingredients, owner/chef Michael McCarty has pulled off a magic trick, staying contemporary and innovative even as the culinary landscape changed. When the restaurant opened, market fresh produce was a rallying cry for a few talented chefs. Nowadays, just about every restaurant says it buys locally and seasonally.
The difference then as now is that fresh ingredients are a good beginning but to be something special, they must be prepared by a talented chef with a great palate.