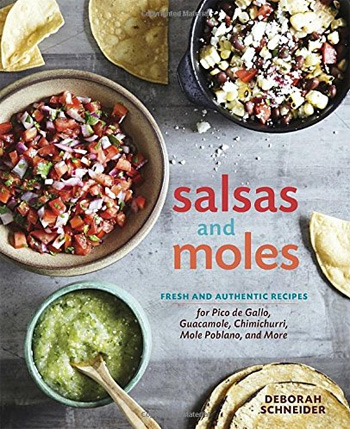 Last spring I had the pleasure of interviewing chef and restaurateur Deborah Schneider about salsas for a San Diego Union-Tribune article "Simply Salsa."At the time, her award-winning 2006 cookbook, Baja! Cooking on the Edge!, named one of the "Best Cookbooks of the Year" by Food and Wine magazine, had just been re-released.
I was tickled. Schneider's cookbook was the first one I bought after moving to San Diego eight years ago. I thought, I'm gonna talk salsas with Deborah Schneider! Followed seconds later with, It's salsa. How much can we possibly say about about it?
The interview lasted an hour, though Schneider readily admitted that she could have talked for several more. (Her passion about salsas and their place in Mexican cuisine is deliciously genuine and contagious.)
Now, you too can talk salsas (and moles) with Schneider with her latest cookbook, "Salsas and Moles: Fresh and Authentic Recipes for Pico de Gallo, Mole Poblano, Chimichurri, Guacamole, and More."
In her introduction, Schneider says this book "is designed to teach you essential Mexican cooking techniques and one very important skill: how to introduce and balance big flavors to create sensational effects." As someone who has made several of the book's recipes, I can say that the design works.