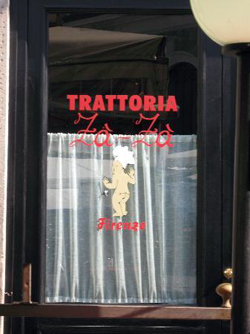 When I first heard the phrase "ZaZa," I thought it might have referred to some strange dance move created decades ago, possibly performed by the Tracy Turnblad character, played by Ricki Lake, in the original Hairspray (John Waters, 1988). I imagined Lake's character flailing her arms in the air, shaking her bum from left to right, tapping her feet to the drum, and exclaiming, "ZaZa!" on a certain beat. Thankfully, I had thought wrong: Instead of the ZaZa referring to a dizzying dance stunt, it was the most tremendously tasty Trattoria in Tuscany—a restaurant in Florence, whose food is so good, it may make you want to flail your arms up in the air and yell ZaZa!
In the far back of a square, just beyond the San Lorenzo, in the Piazza del Mercato Centrale, a neon "ZaZa" sign hangs above the big Trattoria. Immediately, I was attracted, not only to the bright sign, but also the outdoor seating that the Florentine workers at ZaZa refuse to put to rest for the winter, despite the chilly weather.
As my roommate and I approached the hostess stand, I thought to myself 'Tonight, I will be eating dinner in style. Tonight, I will be eating true Italian cuisine,' something I had not done yet since returning to Italy for the first time in two years. With so much gelato, pasta, and pizza around me, I could not believe that my first four days in Florence had consisted of budget cereal, tourist Panini by the Duomo, and Chinese food—which our landlord had treated us to on our second night in the city. The only logical reason for this, that I could guess, was that Italians get sick of their own food sometimes. But after sitting down at Trattoria ZaZa, I could not fathom how anyone could ever get sick of visiting a true Italian restaurant.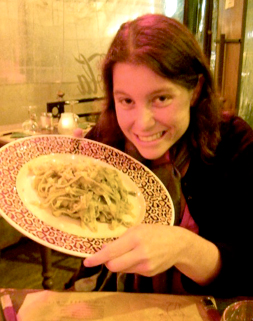 At Italian restaurants, true Italian restaurants (not the overpriced tourist ones that you may find near the Duomo in Florence or in the Piazza Navona in Rome), everything from the outdoor seating, to the house wine, and straight on through the first, second, and possible third courses is nearly always above par. This of course was no different at ZaZa. And as I took my first bite of my "Tagliatelle al pesto fatto in casa" (Pasta with Pesto made in House), I couldn't imagine ever getting sick of Trattoria ZaZa…I couldn't imagine ever leaving my seat. This dish filled with pesto, like a volcano filled with lava, had caused my taste buds to erupt with sheer happiness, and not before long, I was collecting what was left of the pesto on my plate with bread, so as not to cheat my taste-buds of any wonderfulness. This was clearly a no-pesto-left-behind operation.
As I looked around the quiet, yet crowded outdoor part of the restaurant, I observed customers as their eyes grew three times in size with each bite they took. I could vividly hear each person's taste buds yelling, "More…More…More," as I watched each individual spin webs of spaghetti around their fork and bite into the masterpiece of Italian Art in front of them. The cooks of Tattoria ZaZa were clearly the Michelangelos and Da Vincis of Florentine cooking.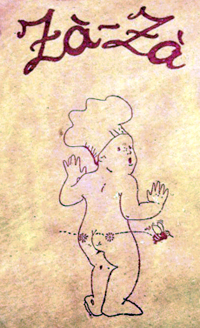 And if the food wasn't enough—if the carefully sculpted and molded meals which had been hand-crafted in the cook's back studio of the restaurant, were not enough to invite me back for more—then at least something else was…a little naked animated man, wearing only a chef's hat, dancing what could very well be…the ZaZa on the front cover of the menu.
Trattoria Zaza
Via della Stufa, 25-r
50123 Florence, Italy
055 215411
Libby Segal is a recent graduate of the University of Rhode Island where she studied Communication Studies and Film Media. She has recently moved to Italy for eight months in to teach English as a second language. While in Italy, she keeps a blog chronicling her cups of cappuccino. <http://illtakeacappuccino.blogspot.com