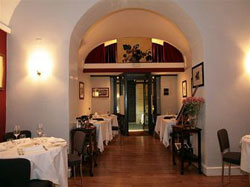 I just spent my first night in Rome and wanted to share my dinner from last night. It was at Al Duello, a place a friend recommended. It was absolutely incredible.
It's a cute little place off a random side street between the Pantheon and Piazza Navona. It wasn't too busy and they were super sweet with me. Not only did they bring me a free glass of champagne, but a free desert, as well. I had sadly decided I couldn't quite muster eating it after the other three delicious courses; however, they insisted. Man, whatever it was it was worth shoveling into my mouth and overindulging.
It wasn't the cheapest meal, but given all I ate, how good it was and, oh yeah, two large glasses of wine, it was well worth it. I can only hope the rest of my meals here are this good.