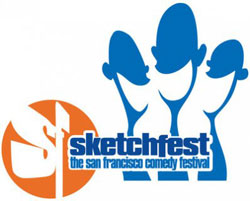 This past weekend I was in San Francisco for The 8th Annual Sketchfest. This was a two week long Comedy Festival with comic performers ranging from Stand-up, One Person Shows, Improv Groups, Sketch Companies and then there were shows that sort of defied description. Some of those were the ones I took part in.

I was lucky enough to see a few shows besides our own. I saw The Lampshades; the best fake lounge act I've seen in a long time. The physical work they do is sublime and hilarious. I took a peek at 2-Headed Dog, but they were doing a sketch that had three men running around in their underpants and little else. They were dancing in a manner that had their peculiar distributions of body fat jiggle in a way that caused me to run out of the theatre. I'm not saying I'm the Venus DeMilo, but I don't choose to subject anyone to the sight of my sorry flesh sac.

The Theme Park Improv Show had Scott Adsit from 30 Rock and Oscar Nunez from The Office. They were outstanding, but what was really impressive was two of the performers in the troupe were the event promoters. You just never figure people that talented would have it together enough to pull something like this off. They did some of the best improv I've seen in a long time.