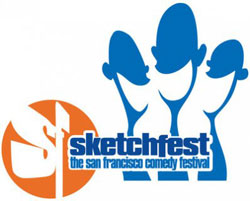 This past weekend I was in San Francisco for The 8th Annual Sketchfest. This was a two week long Comedy Festival with comic performers ranging from Stand-up, One Person Shows, Improv Groups, Sketch Companies and then there were shows that sort of defied description. Some of those were the ones I took part in.
I was lucky enough to see a few shows besides our own. I saw The Lampshades; the best fake lounge act I've seen in a long time. The physical work they do is sublime and hilarious. I took a peek at 2-Headed Dog, but they were doing a sketch that had three men running around in their underpants and little else. They were dancing in a manner that had their peculiar distributions of body fat jiggle in a way that caused me to run out of the theatre. I'm not saying I'm the Venus DeMilo, but I don't choose to subject anyone to the sight of my sorry flesh sac.
The Theme Park Improv Show had Scott Adsit from 30 Rock and Oscar Nunez from The Office. They were outstanding, but what was really impressive was two of the performers in the troupe were the event promoters. You just never figure people that talented would have it together enough to pull something like this off. They did some of the best improv I've seen in a long time.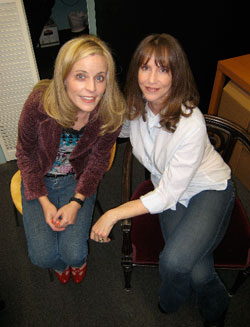 The two shows I did were: Totally Looped and In Their Own Words. Totally Looped is the brainchild of Vince Waldron. Over the years he's had an impressive group of improvisers fill in the dialogue for movie clips, whose theme and content have been suggested by the audience. Paul Dooley, Rick Overton (Genius) Gary Anthony Williams (Genius) Dan Castellaneta, and some lesser known, thought nonetheless brilliant improvisers; Danny Mann, Angela Shelton, Richard Khulman and Joe Liss.
I've done it a bunch of times in Los Angeles, but what made me want to do it for the festival was Maria Bamford. If you don't know who she is, march your fingers right over to iTunes and buy her stand-up. She's one of the funniest, smartest, most original performers EVER! She can also be seen in Comedians of Comedy with Patton Oswalt, Zack Galifinakis, and Brian Poshen (The Sara Silverman Show).
I've never considered myself much of an improviser. In fact, I'm really shitty at it. In the Groundlings, I used to do character monologues while they changed sets. You can't imagine how relieved and surprised I felt when Maria told me she felt the same way. That she really couldn't improvise that well. Of course, she turned out to be a big honkin' liar because everything she did was risk taking and hilarious. You can see some of the past performances on You Tube.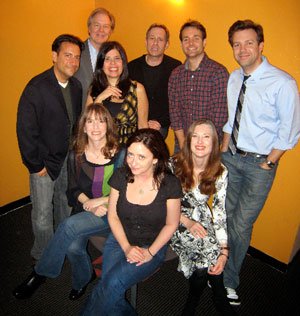 The second show, In Their Own Words, was motivating for me because
1) I really love doing it.
2) I love Michael McKean and wanted to see him again.
3) I love Will Forte and wanted to see him again.
4) I love Rachel Dratch and wanted to meet her.
5) I love Jason Sudekis and wanted to meet him.
6) I love Scott Thompson (Kids In The Hall) and wanted to see him again.
This show is the brainchild of Eugene Pack and its basically reading from Celebrity Biographies. What Eugene has crafted are excerpts from singular autobiographies, or he cobbles together different celebrity biographies that are interconnected and all talk about the same incident (Roshamon and on and on). I read the Poetry of Suzanne Sommers and I played Elizabeth Taylor in a piece that offered the impressions of Eddie Fischer, Debbie Reynolds' and Elizabeth Taylor. Will Forte read from Tommy Lee's autobiography. Between the arrested development and crude subject matter, Will read the most graphic sex advice like it was a laundry list. The choice was hilarious. Scott Thompson read Vanna White, Rachel Dratch read Joan Lunden, Annette O'Toole read Ivanna Trump and Michael McKean read Burt Reynolds to Annette's Loni Anderson.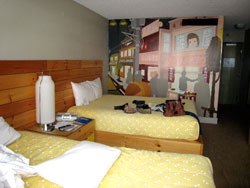 They put some of us up in a Best Western that had been redone with an Animae (Japanese cartoon style). The lobby had a large lounge area with a giant, deceivingly hard chaise lounger covered with electric blue shag. There was a panel of four TV sets all showing Animae cartoons or live action such as Power Rangers.
I must say, I left my heart in San Francisco. The architecture, the food. Oh, yes, the food. We ate at North Beach Restaurant. Let me just qualify the whole experience by saying that in this economy, you have to watch out for places like this. There were six of us at dinner and when I mentioned to our predatory waiter that I was hungry, he composed antipasti of langoustines, Bouratta mozzarella with a drizzled reduction of balsamic on top of a tomato, the restaurant's own cured Prosciutto, and some unbelievably sweet cantalope. This was delicious. It was $30 a plate.
He made a plate for all six of us and when two of our party said they didn't want it because they were vegetarians, he blithely shoved the remaining food on to everyone else's plate. Clearly the owner/chef was an artist and took great pride in the products he made himself or imported exclusively. The menu was pretty traditional and I chose linguini with white clam sauce. It was perfection. Really, this was probably the way it was always intended to be. Not too watery, not too creamy, just right. So, if you're flush, I say, go for it. Otherwise, plan your trip. There are plenty of places to eat in Baghdad by the Bay. Also, I recommend you plan your trip to coincide with Sketchfest. I'm just sayin'.
Laraine Newman is a founding member of The Groundlings Theatre Company and an original cast member of Saturday Night Live. She lives in her hometown of Los Angeles with her husband and two daughters.