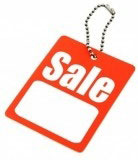 Tis the season of Sample Sales, or so it seems when the mailers start arriving announcing this 40% off (but it's in downtown LA) or that 80% off, but not until two weeks from now when I've completely forgotten about it and f*#k it anyway, where's the instant grat? I subscribe to Daily Candy and Top Button, the latter being exclusively an online sample sale site. There is also a mother at my younger daughter's school whose clothing line I happen to love that has her sample sale around this time too.

It's taken me a long time to become a savvy shopper when it came to these 'deals'. I was the sucker that clipped the coupon for something at the market I would normally never eat. I would be under the illusion my family might try the yogurt covered zucchini chips for 50% off. Invariably it would linger past its expiration date and get thrown out. This always jettisoned me into the 'I'm gonna be homeless someday, why oh why did I waste my money like that??" fear fantasy. I would vow never to make that mistake again and I finally learned that the only coupons worth clipping for me are batteries and toothbrushes. Do I really need that 35¢ off the second four pack of Charmin? Hell no!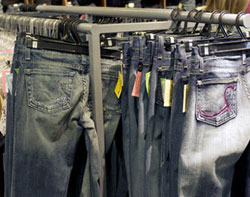 But when it came to sample sales, it became a whole different ball game. Billion Dollar Babes presented huge airport hangar sales that included up and coming designers as well as established and edgy young LA designers. I loved so much of what I saw and most of the pieces were one of a kind and would never be found in stores.
I hadn't yet reached a point of sophistication where I understood that I simply needed basics for a well-rounded wardrobe and I kept gravitating towards the same things: jeans and t-shirts. This always left me confounded by how limited my wardrobe was when it was time to go on an audition dressed as a lawyer or a school principal. Hmmm. Well, maybe this lawyer is like James Woods' character in True Believer; a former hippie who never really became a part of the establishment….Ahhh, no.
There was also the schism of what looked appropriate on me at my, ahem, age. That conundrum left the 'this'll fit me when I lose that 5 lbs' fool's paradise in the dust.
The designs I really loved weren't really for my age group. I had no business wearing them. There was also another problem: The Girls. My boobs, that is. I used to think having boobs would be the greatest imaginable thing. But, as they say, be careful what you wish for.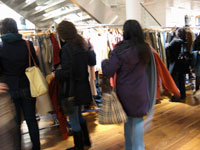 Mine grew (no lie) and at first I thought "I am the luckiest gal that ever lived!" But then one day, I was running downstairs and I noticed that 'the girls' were a step behind, so to speak. The weight of their bouncing had the same impact one might feel at the recoil of a gun going off. Ewww. But the biggest bummer was, they were the enemy of fashion. I wanted to have a lean silhouette, but in reality, I had the hen-like shape of Aunt Bea from Andy of Mayberry.
So, taking stock, I finally figured out what I needed and what looked good on me, but there was one more lesson to learn. The online sale and the sale where you can't try anything on. Don't. That's all I can say. Don't. Three days ago I went to the sale I vowed never to go to again. The one by the designer from my daughter's school. You can't try anything on! And sure enough, when I got the stuff home, that cashmere sweater that I thought was such a steal, made me look 7 months pregnant (because of the f@*king 'girls'!) and that really unique t-shirt was so tight it highlighted all my 'back fat'.
Recently we had a garage sale. As I lugged the bags of clothes that never got worn, some still with the price tags on, down to the basement, cursing to myself, it dawned on me that I was passing on the misery. The poor suckers that bought my unused clothes had the same problem. They wouldn't be able to try the clothes on either. However, I must say, after dealing with the specimens of humanity at our garage sale, I wasn't that sorry. But, that's another story for another day.
Laraine Newman is a founding member of The Groundlings Theatre Company and an original cast member of Saturday Night Live. She lives in her hometown of Los Angeles with her husband and two daughters.