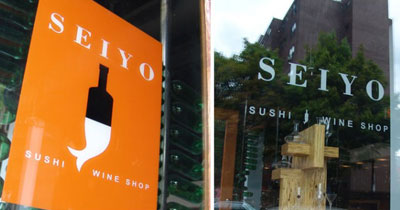 Seiyo Sushi & Wine Shop in Boston's South End on Washington Street has a patio where you can eat as well as watch ambulances shrieking their way to Boston City Hospital but all in a good way. Our eating adventures are mostly about food but sometimes it's not just food.
We're checking out this restaurant and wine purveyor housed together in a building called Minot Hall. It's been on our list of must-trys but the concept has me stumped. I look it up: the 1859 building was constructed as a social hall, according to Architect Week, and some years later became the Olympia Hotel and then a few other things before eventually turning into condos and retail not so long ago.
We have fear of winter in New England so we're wondering if this could be our last outside lunch. I'm hoping we're wrong because the day is perfect. Wait until you're seated. It's glorious to find this much outdoor seating with a tree awning in the middle of the city. You've passed Seiyo often on your way into the heart of the South End because we have. Its signage is so inconspicuous as to be nearly non-existent. We can't help mentioning it to our servers because we're surprised the place flew under our radar. They say they'll mention it to owner Steve Yung but we think he knows. Anyway, now the idea of somewhere to eat along with the chance to buy wine makes perfect sense.
We're starting with Carpene Malvolti Prosecco di Conegliano that's tart, fruity with notes of pear and it's very fizzy. One taste and Julie says: "Yes, they know what they're doing." We want to take it home and that's easy because it's right here in the shop. (Type the name of a wine into Google. You can find anything you want with Wine Searcher. I've been using it to track down wines we've had on the job and it pinpoints where you can find them by zipcode.)
Our miso is hot, filled with seaweed, scallion and diced tofu. It's part of the lunch bento boxes we order: one vegetarian and one sushi. The vegetarian has Shiitake maki, avocado with cucumber roll, inari and pickles. Inari is sweetened sushi rice that's in aburaage, or deep fried tofu and no, it's not a dumpling.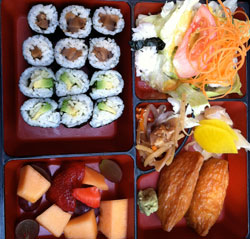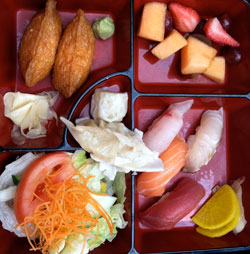 The sushi bento adds one gyoza and one shumai to four pieces of sushi, pickles and inari. There's salmon, tuna, hamachi and a mysterious white fish we can't identify but it doesn't matter because it's fresh and authentic. I think we sometimes take Asian cuisine for granted because it's everywhere like delicatessens. Authentic is less common. You can see and taste authentic from miles away no matter what the cuisine.
Bentos aren't exciting exactly but they're a great way to try some of everything. These are nicely done, they're satisfying and ours finish with melons, strawberries and grapes. In my notes I've written "fruit should be required at the end of every sushi meal but only if there's no chocolate cake." We ask for cake which makes our server giggle about how there's no cake. That's okay, the fruit tunes up the wine.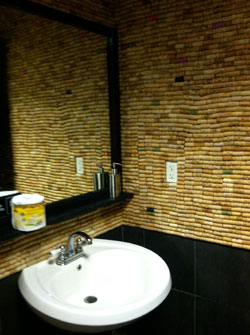 We step inside to see what's for sale. Wine! It's everywhere the tables aren't. In no time Julie's picked out her bottles: the Prosecco, plus Anjos Vinho Verde from Portugal with bubbles to complement her at-home Asian menu.
We're chatting with the servers about the modern decor and I notice the wine corks they're using at the counter. "Oh," they said, "if you like cork, you must see the bathroom." You must see the bathroom.
Every inch is covered in cork and not flat brown cork you remember from the '80s either. Wine corks have been glued everywhere even around the sink and light fixtures. I'm not sure who to congratulate: the guys who did the gluing or the people who drank up. Either way, it's a hell of a job but hey, somebody has to do it.
Seiyo Boston
1721 Washington St (South End)
Boston, MA 02118
617. 447. 2184
© Photos by Julie Moffatt. Kitty Kaufman is a Boston writer. See their food adventures at Let's eat already