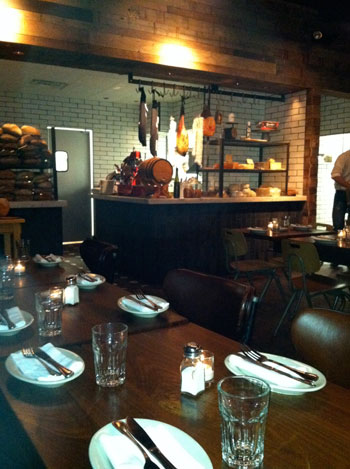 What used to be a quiet street is now where it's at. Where there was nothing, there are heady times. It's a place your very own New Jersey food-wise cousins pick from online reviews. It's fun. It's affordable. It's a big deal with something for everyone. Finally.
We're talking three deep at the bar Friday and Saturday and reservations all week. A din to make Gunga deaf. Our first visit comes after an interminable Urban Nutcracker. What nails it for us: they have tastes of wine.
Barcelona's taste is half a glass and this is after the sips they bring first so you can pick a taste. We choose a Viognier from Argentina and white Rioja from Spain. The Viognier is fruity and the Rioja is um, boring, but not as boring as the Nutcracker. There is beer and there are cocktails and there is wine by the glass.
Julie is having carrot salad with arugula and avocado. It's light and filling and if they make this in Spain, authentic. It's not on the menu now but there are others: kale with anchovies; greens with goat cheese and raisins; raddichio with raisins; shaved mushrooms with celery and mustard; plus ensalada with onion and no raisins.
Spinach and chickpea cazuela: each time I order it, everyone who's not a regular spinach imbiber hogs it. So is it because it's green or that it goes with meat and cheese tapas? Funny, in all our meals with a changing cast of characters only some of whom are vegetarian, no one orders any cheese. Olives, yes, olives are olives but not a bite of cheese: Gallego, Romao, Malvarosa, Mahón and Valdeón.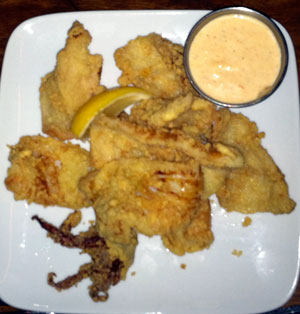 Fried, sometimes crispy, calamari with no peanuts, no peppers or garlic is how we like it. It used to be on the menu but I don't see it now. However, if there's calamari in the kitchen and you ask just right, the chef will make it for you, our server says. We like aioli with habit-forming hot peppers. Calamari's one of a number of tapas that's fish-based along with skate wing, lobster fideos, mussels and prawns à la plancha. Our Garnacha is oak-y with raspberry; Vouvray is fruity and bright.
Another night we have the verduras, or vegetable paella that's $16 per eater. It's rice with carrots, mushrooms, parsley, broccoli rabe, onion, squash and Brussels sprouts topped with garlic aioli. It arrives in a paellera so big I think it must be for four, but no, it's for two. The vegetarians think it's splendid. I think you need that aioli and then some. I read that in Valencia paella is cooked over orange and pine wood which makes it aromatic. Here, there is no saffron and is it missing the something that makes it, I don't know, Spanish?
A couple of weeks later, the cool New Jersey cousins order the mariscos, seafood paella with shrimp, squid, clams and mussels for $24.50. In fact, the chef himself brings it to the table. He's proud and rightly so because it is beautiful. Los peces are perfectly cooked, we love the shrimp and yet I want fish broth or something.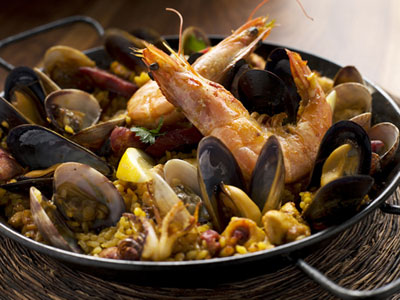 We know some things about paella. My brother Paul, keeper of Mom's recipes, reads what she used: shrimp and littleneck clams; there is chicken but no sausage; onion, rice, garlic, paprika, saffron and pimiento. Even then when we were kids, as in little kids, I got it: something that makes it different from say, rice in Asian cooking. So I confer online and here's what they say: saffron is the most expensive spice in the world; I didn't know that. It is very intense; this I know. Some say it tastes like plastic.
Like everything, the community is adamant about how it tastes and where to buy it and what you might think to substitute for it (which you cannot). So for now, the Brookline jury is out, undecided about saffron. It is not something we can solve tonight so instead we order pitchers of sangria with more than a touch of brandy, rum and amaretto and that explains everything that happens later.
Another night Lan is drinking their spicy hot dahlia. It's Chinaco blanco tequila, orange, lime and jalapeño all of which are surprisingly good. It goes nicely with tender grilled lamb chops and arugula salad. My Manchuela bobal is soft and it must be raspberry with chocolate that sends me out to buy it. Our meal finishes with dulce de leche bocadillos. High school Spanish did not take in food so I ask the server to spell it. I check now and it turns out bocadillos are sandwiches made specifically from Spanish bread; you cannot use sliced bread and on this they are quite clear. From the pictures, a bocadillo is what you and I call a hero or a grinder, a sub or a po' boy with meat and cheese. What we're eating are sugar cookies with cream filling which is good because there's no way I could pack in a sub now.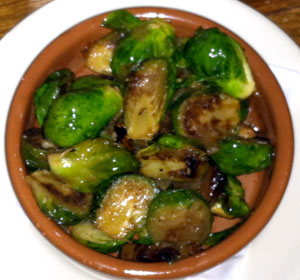 Look: Brussels sprouts caramelized with guanciale, pork cheeks, in a sofrito of garlic, onion and peppers and maybe tomatoes but maybe not, in olive oil. Some nights they come out piping hot and porky. Some times they're lukewarm and crunchy. I should say something, I know, but it's my birthday. On to the next tapa with chorizo and sweet figs in a deep brown sauce that takes up all the hot, crisp rustic bread.
Hot mushrooms and creamy goat cheese in a balsamic reduction blow everyone's mind, but not right off. When I order, I get looks but that's only until it arrives and then one taste makes everyone a convert. Do mushrooms get a bad rap? The next day, right from the refrigerator, it's a keeper that makes even tuna salad exotic. This night we're having dessert: churros, fried dough that comes with very good chocolate sauce and if there's room, have some.
Each time, the ever helpful servers want to know if we've been here before: Yes, yes we have and yet they insist on explaining how the menu works. I guess that could play somewhere, but I can't imagine where. By the fourth time, it's annoying. Once the patio opens, maybe the vibe will mellow out with wide sidewalks cradling a big patio that looks like seating for 50; It easily accommodated our Chamber meeting last summer.
Will we see you there? Yes, but there's no sign. Maybe it's a town thing, no sign, I don't know. But if you're driving around and you think you're lost, you're here.
Barcelona Restaurant and Wine Bar
1700 Beacon St
Brookline, MA 02446
617. 264. 8900
© Photos by Julie Moffatt. Kitty Kaufman is a writer in Boston. See more of their food adventures at Corporate Edge and Kitty Kaufman on Twitter.