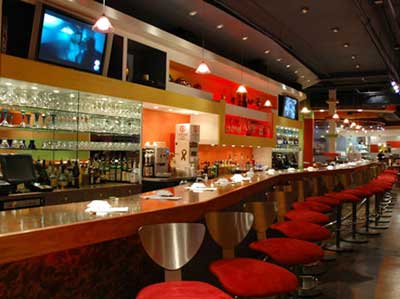 I'm not sure who declared Fuji 1546 has the longest bar in Quincy; a local editor, reporting two years ago, or the website. Either way, it is major. If you want a seat, you can have one. High ceilings make it noisy all right with the concrete floors and all. Watching a ball game here is like being in Fenway Park without having to get up for the beer. Honestly, it's just what we need this Tuesday. Dance class is off and we're in desperate need of a big dose of happy with good food and wine. It's all here.
Julie chooses a Nobilo Sauvignon Blanc, New Zealand grown. Nobilo isn't making it easy to learn more. Before you can get on their site just to read about wine, not drink, you must swear to be "of legal drinking age in your country to enter this site." And you have to put in when you were born. Really, as if no one ever lied to buy something online? We agree it's crisp with citrus notes which pretty much describes everything we order. I'm having a Chateau Lafayette fizz from California which 1000corks.com reports, without any tells, you can get on the cheap around the country. We send back the first glass, no bubbles. The second one's fine.
Hokkaiyaki: broiled spicy scallops mixed with crab stick, tobiko and cucumber. It looks like nothing we've ever seen and we file it under good surprises. If you like hot spicy mayo, it's for you. It's for us. And it looks damn good when they put it on the table; it covers the plate and it's smoking. Fuji also serves it in their sister restaurant in Cambridge not on a plate but in a scallop shell. (As it happens, that store looks completely different: all windows and modern wood.) They do have a way with liberal spicy mayo. Here and there, they will roll up what looks to be this dish in a maki roll. We're hooked. I am trying to imagine if it had bacon.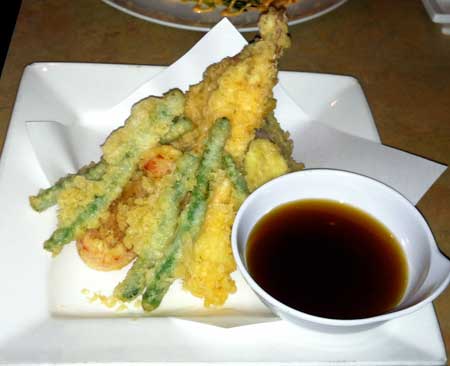 Ebiten is Japanese style fried shrimp and vegetables. It's crispy and piping hot. We play, guess what's hiding in the batter? We find red pepper, eggplant, string beans and shrimp. The shrimp are huge, like four inches. Vegetables are so lightly cooked they've hardly taken up oil so we tell ourselves it's calorie-free. No, but still. On a do you coat-or-not-coat-fish note, we blew into the new Wegmans in Chestnut Hill in time to see one of their cool chefs dredge tuna and fire it up in a frying pan just for us. He is using their house brand of coating in very little oil.
I'm not sure he needs anything on the fish since it came right off a whole tuna that's being carved as we watch. Anyway, the Wegmans pan-searing coating is not like batter exactly though they both use flour and salt. My point, and it's only my opinion, does tuna need anything, even spices, when it's fresh? Ebiten, similar if not matching tempura, has its own virtues. We do like batter and deep frying every now and then even if it comes with a side of guilt.
Vegetarian maki takes in asparagus, avocado and mushroom rolls. They've battered the mushrooms. The asparagus is still bright green. Even the ginger's unusual. And the avocado is the way you wish all your avocados would be: à la Goldilocks. We know maki's predictably good. (Except once, not here, years ago at a place I used to go, that slid ever so slowly. It took me a long time to admit it was over and then, I did.)
The din is getting to us. This doesn't make us geezers; one of us has a smart phone and the other is a webmaster. Was this once a bowling alley maybe? No, Bella English, a writer for the Boston Globe, reports an insurance company used to be at this address. I don't think it was my health insurance guys. (But here's a fantasy: put them on hold and deny their claims.) We're one of the last tables and it's only ten o'clock. The bar is still busy.
We check; the later it gets, the younger it gets. We're in no rush so let's have another round. Which makes the shots of their neon all the more inspiring. If you're sightseeing, not far is the Quincy Historical Society where you can see more about this, the City of Presidents. At the National Historical Park you can learn about John Adams and John Quincy Adams. Quincy has beaches too. Forget profound, I want sun after lunch.
Fuji 1546
1546 Hancock Street
Quincy, MA 02169
617. 770. 1546
© Photos by Julie Moffatt. Kitty Kaufman in a writer in Boston. See more of their food adventures at Corporate Edge and Kitty Kaufman on Twitter.