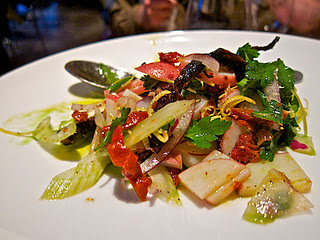 On a recent food tour of Spokane and Northern Idaho, enjoying the beautiful scenery with clear running rivers and crystal blue lakes, I discovered a handful of restaurants that are living up to the promise of farm-to-table.
In Spokane, our group of fifteen sat down at a long table at Italia Trattoria. Chef and co-owner Anna Vogel talked about the abundance of small farms within a hundred mile radius that supply the restaurant with the majority of its produce, cheeses, poultry, eggs and meat.
She and partner, Bethe Bowman, were attracted to Spokane's small town, cosmopolitan feeling. A small enough version of Seattle where their restaurant can, as she said with a smile, "change the way Spokane eats."
If I lived in Spokane, she would certainly change the way I eat because I would come as often as I could.
We had several salads, the best, a charred octopus salad. The bits and pieces of pepper crusted octopus contrasted perfectly with a light mix of local produce--Italian parsley, thinly sliced new potatoes, celery and red onions, tossed in olive oil flavored with roasted tomato essence and lemon.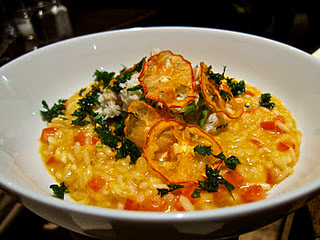 A second course showed off chef Vogel's skill with potato gnocchi. The soft, pliant dumplings were coated with a sweet-tart tomato sauce and topped with shreds of bright green basil.
A risotto, similarly dressed with a roasted tomato sauce, the perfect compliment to the fresh dungeness crab from Washington State's coastal waters. Decorating the risotto were thin parasols of heirloom tomatoes from Beanie Blues Farm located on South Hill in Spokane.
Trained in Europe and in some of Seattle's best restaurants, chef Vogel knows to source great ingredients and then get of the way.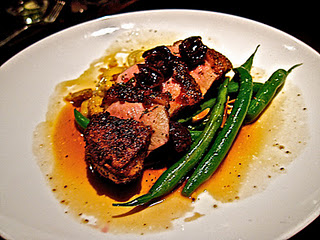 The duck breast spoke for itself. Blood red and tender, the thick slices were accented with a crust of dusky cocoa nibs, accompanied by a corn potato hash and crisp whole green beans for contrasts in texture and flavor.
Thickly cut flap steak cut easily and tasted earthly and beefy-rich. Like many talented chefs, Vogel knows that sides are not an after thought.
As quickly as we devoured the beef, we attacked a deliciously full of flavor, roasted, skinless whole tomato. A potato croquette seasoned with parmesan cheese was fried to crusty perfection. They challenged the beef to compete with their veggie-wonderfulness.
We sampled local Washington State wines as we ate, enjoying a preview of the wineries we would visit on the trip.
We were offered the dessert of the evening, a lemon cornmeal cake with cherry compote, but we apologized we are too full. We simply could not eat another bite, fearing like Mr. Creosote in Monty Python's The Meaning of Life, we would explode with delirious happiness.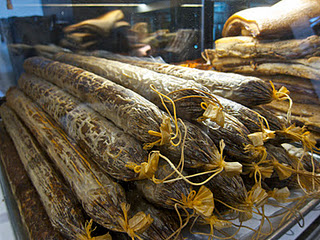 The next morning, barely recovered, we descended on Santé Restaurant & Charcuterie in downtown Spokane.
Santé's rustic vibe is accentuated by wooden plank tables and refrigerated display cases filled with executive chef Jeremy Hansen and sous chef Jeff Vance's housemade sausages, sides of bacon, assorted charcuterie and jars of homemade pickles.
We pressed against the display cases to get a better look at the pickles and charcuterie as if we were kids outside a toy store.
"Think Globally Eat Locally" is printed on the menu. Not just a marketing slogan, chef Hansen pursues the best ingredients he can find from local farms and throughout Washington state. Using French and Italian techniques, he creates dishes with a rustic American point of view.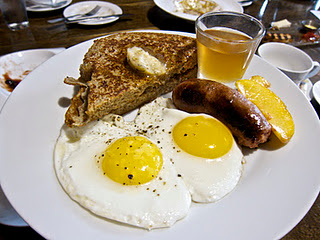 From the charcuterie and cheese menu we sampled cheeses, house cured smoked trout gravlax, pork and duck prosciutto, sopprasetta and salami. Toast rounds, flavored mustards and a selection of those pickles we had been eyeing appeared and we passed them around.
Because this was breakfast, we had wheat berry French toast, sausages, duck and chicken eggs fried sunny side up--the better to enjoy the brilliance of their deep yellow yolks.
To sample chef Hansen's lunch/dinner menu, we ordered the charcuterie quiche and, my favorite, his gnocchi with crisp slices of guanciale on top. The gnocchi were coated with a deeply nuanced sherry glazed cream sauce. Luckily there are still slices of the toasted baguettes so we could enjoy every last drop of the sauce.
In a nondescript mini-mall, chef David Blaine at Latah Bistro serves an Italian inspired menu. His risottos, pastas and crostini are topped with produce from farmers in the area. On Monday they call Blaine and tell him what they are harvesting that week. Doing quick culinary math, he plans his weekly menu and puts in his orders.
The resulting dishes change weekly and even daily, grounding his customers in the seasons.
Just outside of Spokane, we visited Masselow's Restaurant in the Northern Quest Resort & Casino where chef Bob Rogers showed us that even a large organization recognizes the benefits of using local ingredients, sourced from small farms practicing sustainable agriculture.
Using one of his high tech kitchen toys, Rogers served a delicious piece of Washington beef cooked at low temperatures in a sous vide machine and finished on the grill. Tender, moist and delicious, the beef was paired with spaghetti squash, Swiss chard and a barley risotto.
For me, chef Rogers' best dish was a simple salad of lentils with lettuce, a bit of goat cheese with a vinaigrette flavored with the juice of an oven smoked tomato. Simple, elegant, delicious and all the more fun, because we had bought the Palouse lentils ourselves from the Moscow (Idaho) Food Co-op.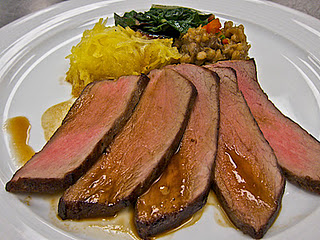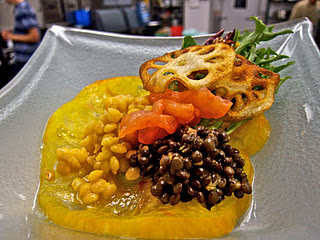 While we were in Moscow, we ate at Nectar, a wine bar distinguished by chef Nikki Woodland's cooking. Located in rich farmland, Woodland buys her produce from local farmers, explaining that the key to her cooking is a sentiment heard frequently on the trip, "I like to source great ingredients, treat them simply and let people enjoy them without too much fuss.
David Latt is an Emmy-award winning television producer who turns to cooking to alleviate stress. He shares his experiences with travel, food and his favorite recipes on his blog Men Who Like To Cook.