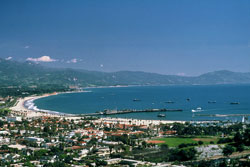 A group of good friends, connected by a love of politics and good food, always used to get together every August in Santa Barbara. Life slowed down; we'd cook together using all local produce – sweet corn, plum tomatoes, Armenian cucumbers, peppers, tomatillos, Blenheim apricots, avocadoes, Santa Rosa plums – and then feast as the sun went down behind rolling hills planted with avocadoes and lemons.

So you can imagine our excitement when we heard that Johnny Apple – the legendary political columnist and food writer at the New York Times – was coming to town with his wife Betsey. Johnny was (as many have noted) a force of nature. I first met Johnny when he came to LA to do a feature on Asian Pacific food. We hit 3 restaurants in 4 hours one evening, going from Vietnamese to Chinese dim sum to a Chinese restaurant famous for its "pork pump". I was so exhausted I begged off the next three days of eating. I don't think I've seen anyone enjoy food and wine more (even that third dinner you have to eat when you're a critic.) And his stories of his years in Vietnam or on the road with various Presidential campaigns were fabulous, as were his insights into the politics of the day. We toured some great (Hitching Post II, Lucky's) and some down-home (Freebirds, Mi Fiesta Market & Deli) restaurants in the area.
This is part of Johnny's take on the trip: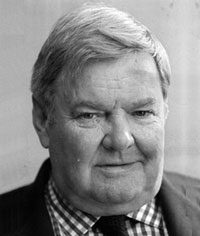 NO one would dream of describing this resolutely easygoing seaside community, which likes to call itself the American Riviera, as one of the nation's (or even California's) cutting-edge restaurant towns.
It has nothing even half as glam as Thomas Keller's French Laundry, up the coast in the Napa Valley, or Wolfgang Puck's Spago, down the coast in Beverly Hills. There are plenty of celebrities underfoot, but they make their living in the movies and on television, not pounding pots and pans.
So don't come to Santa Barbara in search of foie gras or caviar. Don't come looking for swagged and spangled dining rooms. But you can have a dandy time eating and drinking here.
The fabulous fish and shellfish of the Pacific, the abundance of California's farms and ranches and the fine wines produced in the Santa Ynez Valley and the Santa Rita Hills are all close at hand. They make their way to backyard cookouts, into beachfront picnics and onto the menus of the comfortable, California-casual restaurants Santa Barbara favors.
The highlight of his trip for us was a home cooked meal and birthday celebration on August 6, 2005 – a dinner all the more poignant when Johnny passed away a little over a year later.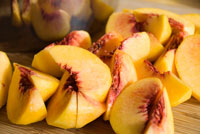 My job was to make dessert – and Johnny said his favorite was peach ice cream. I am an ice cream maker and I love to cook in the summer – my husband will testify to the fact I don't cook at all the rest of the year. I make jam, roasted tomato sauce, zucchini pie…..and ice cream. We had some late summer, yellow-fleshed Babcock peaches (not as good as O'Henry's that they grow in the central valley) but full-flavored.

I worry about sugar and fat….but when you make ice cream you must use only the highest quality ingredients. You can't use low fat milk. You have to commit. Heavy cream. Whole milk. Fresh, organic eggs. I like a custard-based ice cream – I figure that all that fat and sugar is at least balanced by lots of protein. (My mother always said ice cream was good for you.)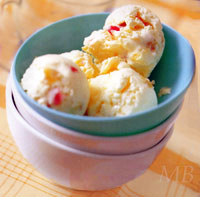 I was delighted to find the Chez Panisse peach ice cream recipe – which advised using a potato masher to achieve those lovely bits of fruit and avoid the b b gun balls that chopped fruit become. We added extra sugar – sometimes peaches lack the sweetness a great ice cream needs and it gives my husband something to do. We almost always add extra vanilla. I have whole Tahitian vanilla beans, now, that I smuggled in from a scuba diving trip (it's illegal to import beans, only paste). These vanilla beans are twice the size and plumpness of what we seem to get here – no need for extra vanilla extract while they last.

I also made a toasted pistachio ice cream. Pistachios are so good in Santa Barbara, grown locally, and it's a particular favorite of ours as well. We used the same basic ice cream recipe, then added two cups of toasted and chopped pistachios mixed with 1/4 cup sugar.

The ice creams were a huge success – blessed by the big man himself! Even with Johnny gone, we have our memories of glorious ice cream melting in our mouths, surrounded by great friends. It's time for a reunion!

PEACH ICE CREAM

Make a vanilla custard first:

2 cups whole milk
1 vanilla bean (split in half, scrape insides into milk, as well as whole bean)
6 large egg yolks
3/4 cup sugar
1/8 teaspoon salt
2 cups heavy cream

In medium saucepan, over medium heat, bring milk and vanilla bean just to a simmer. Remove pan from heat. Whisk yolks with sugar and salt until light yellow. Temper eggs with small amounts of heated milk mixture until you can pour the eggs into the milk safely. Cook, whisking constantly, for 8-10 minutes, or until custard thickens enough to coat the back of the spoon. Remove from stove and add the cream. Chill for at least 30 minutes (but I usually do it overnight.)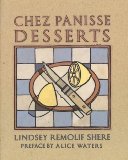 PEACH PART (from Chez Panisse Desserts
)

1 lb. Very ripe, good flavored peaches (use a yellow flesh peach for good intense flavor)
vanilla extract to taste
1/4 cup sugar (Gary used a bit more)

When you are ready to make the ice cream, peel and pit the peaches and cut in thin slices into a bowl. Toss with sugar and let sit for an hour until the sugar is dissolved. Crush peaches with a potato masher, do not puree them. You don't want large chunks of peach or they will taste like gravel, nor do you want a smooth puree. Small chunks. You should end up with about 1 1/2 cups of peaches. Mix with the custard and add vanilla to taste.

Freeze in your ice cream maker.
Allison Thomas is currently producing the CG-animated film, The Tale of Despereaux, at Universal Studios. Making ice cream is much easier.