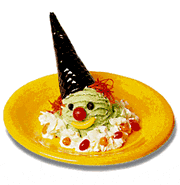 In Margate, New Jersey, there is an ice cream shop that time forgot. It is called Two Cents Plain and it has little white wire chairs with red and white striped seats, red and white wallpaper festooned with whimsical line drawings of flappers in long necklaces and gents in boaters, and a jar on the counter where customers can deposit tip money for the scoopers' college funds. It looks just the same today as it did in 1979, when I had my fifth birthday party there.

We had the whole place to ourselves that day! What a thrill for a five-year-old. More thrilling still were the ice cream "clowns" (still on the menu) which were presented thusly: a scoop of ice cream on a plate, and a sugar cone inverted on top as a hat, point side up, and a face drawn on the scoop of ice cream with Red Hots. I had asked for a baby sister for my birthday that year and instead was presented with a baby brother, and the ice cream clowns went a long way towards placating me.

Imagine my delight at revisiting Two Cents Plain last summer, out-to-here pregnant and craving ice cream like nobody's business. I was overjoyed to discover that the wallpaper is not only untouched but has somehow survived the ravages of time. It's not even peeling or discolored, as though the whole place had been safely under a bell jar for the last thirty years.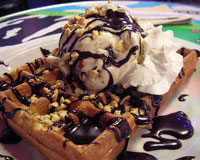 My husband, who grew up in Boston and waxes rhapsodic about someplace called Steve's, was skeptical about Two Cents Plain and did not seem to grasp the significance of the miraculously preserved wallpaper. But he could not deny the smell of waffles, baked fresh on the premises in case one might want to dress one up with a few scoops of ice cream. The scent overpowered us as we entered and hypnotized us into deciding to sit down and order sundaes, even though we were ostensibly there just for a very small ice cream cone.

My father, who was the benefactor and chauffeur of this expedition, feels strongly that ice cream should be accompanied by pretzels. Two Cents Plain understands the unadulterated delight of having a little salty interlude to punctuate your demolition of their sundaes, and they provision little bowls of pretzels as a sort of side dish for every patron.

Our waitress – all of fifteen years old and barely able to stifle a yawn as I told her that I had celebrated my fifth birthday here ("you are old enough to be my mother," I could hear her think to herself) – warned us that the small sundaes were not really all that small, and that we ought to order junior sundaes, or split a small one among the four of us. We all shared a look – could this bored teenager not see my pregnant belly? Did we come all the way from California to order a puny junior sundae? Did we look like amateurs? No, we did not. We ordered two medium sundaes to split among the four of us. The sundaes arrived at our table, easily as big as our heads, and we all shared another look – maybe the bored teenager knew whereof she spoke – but we were not to be deterred.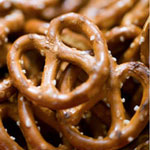 Our sundae was some kind of concoction involving vanilla and chocolate ice cream and chocolate syrup, while my dad and stepmom's had caramel and I think a banana and quite possibly some peanut butter ice cream, and over the course of about forty five minutes – taking breaks for pretzels in the same way that marathoners stop to drink water – reader, we finished them down to the last drop.

Next week I am making my way back to Margate with my baby daughter in tow. We have a date to meet a baby just her age who happens to be the daughter of one of the attendees of my fifth birthday party. We're meeting at Two Cents Plain. Do waffles count as solid food?
Emily Fox writes both feature films and television when she is not whipping up the same three recipes over and over again (chili, coq au vin, and Tollhouse chocolate chip cookies). She lives in Los Angeles with her husband and baby girl.