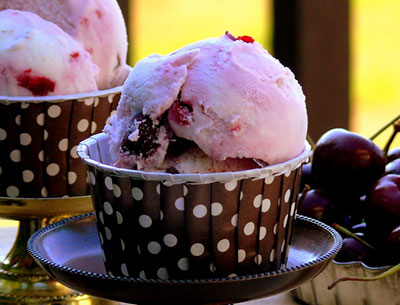 Ever since making coconut ice cream, well, I am in love with the stuff. It's so refreshing and addicting! It makes me feel like I'm on a tropical vacation. I knew I wanted to make different versions of that ice cream very, very soon.

Then, my friends at Republic of Jam just happened to stop by our tasting room (okay, they are right next door) with 6 quarts of freshly picked, sweet Pacific Northwest cherries. After eating about 2 quarts myself (swear), I decided to make ice cream. And chocolate needed to be involved...it just did.
In my adventures around the internet (I could read food blogs all day), I found OXO has a new cherry pitter,...and wait for it...it has a splatter screen. Yes folks, it's the little things. I have no other choice but to get this, like NOW. While I love my cherry pitter, it sprays juice, the seed goes flying, the dog chases it and swallows it. It's a mess and I've ruined quite a few articles of clothing. I need the screen and I'm getting it.
Anyway, what I love about this ice cream...there is no-custard, but you do have to make sure your ingredients are cold. In other words, some planning is necessary.
I must confess, a staple in our house this summer has been heavy cream. The fridge is stocked with it. This way, I am always ready to create some ice cream deliciousness when inspiration strikes. I suggest filling your fridge with it too, making August the sweetest month ever.

Quick note..coconut ice cream is not made with coconut milk, use creme of coconut. This is usually available at grocery stores or a liquor store since it can be used as a drink mixer.
Coconut-Cherry-Chocolate Chip Ice Cream
Recipe from: Created by Noble Pig | Serves: Slightly more than a quart.
Ingredients
1-1/2 cups whole cherries, pitted
1/4 cup sugar
juice of half a lemon
2 cups heavy cream
1-3/4 cups (or 14 oz can) creme of coconut
3/4 cup whole milk
3/4 cup roughly chopped chocolate chips
Directions
Several hours prior to churning the ice cream, I combined the heavy cream, creme of coconut and milk in a large container, stirring well. I placed it in the refrigerator to get nice and cold. It's preferable if this container has a pour spout. I also made the cherry mixture so it could cool as well. Place the cherries, sugar and lemon juice in a medium sized sauce pan over med-low heat. Cook, breaking up the cherries with a wooden spoon as they soften; about 10 minutes. Remove from hot pan and let cool. Place them in the fridge when they have cooled down enough.
When all ingredients are cold, start ice cream churning and pour cream-coconut mixture into ice cream maker through the pour spout. This is assuming you have that type of ice cream maker. If you don't, that's okay too. Once ice cream is frozen, add cherry mixture and chocolate chips. Churn just enough to combine, about 1 minute.
Place ice cream in the freezer to harden further. About four hours or overnight.
Cathy owns a vineyard and winery in the Willamette Valley of Oregon. She is a food writer for Davis Life Magazine and blogs daily about wine, food and everyday living. She lives with her husband and two sons. You can visit her at noblepig.com.