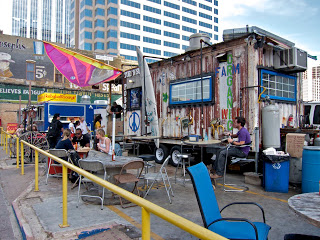 Austin has a lot going on. Besides being the state capital, the city has amazing music venues with a great collection of bars and a dynamic food scene. Austin has it all. Upscale, fine dining restaurants as well as affordable neighborhood hangouts specializing in Mexican, Asian, Indian, French, American cuisine and more barbecue and burger joints than you can shake a stick at.
One way to navigate the diverse food scene is to check out the food trucks. Encounter a food truck in most cities and they're pretty utilitarian. Usually the truck is a step van with a window cut along one side where customers order and pick up their food. To eat your meal, you stand on the sidewalk trying not to get food on your clothes. A web site, Austin Food Carts, keeps track of the comings and goings of trucks, with daily updates.
But the majority of food trucks in Austin aren't trucks at all. With tires mere props, these trucks are trailers. Since they never move, trailers can offer customers creature comforts like picnic benches and umbrellas. There's even an ATM machine and a patch of Astro Turf at a trailer called Bar-B-Que-T on South Congress at East Monroe. Some have all but lost their "trailer-ness."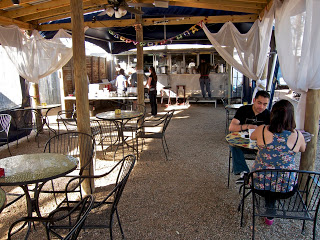 Entering the tent draped G'Raj Mahal Café, all that is missing is sitar music to complete the sense of having entered a proper Indian restaurant.
With afternoon breezes blowing against the tent walls and the sweet scent of cumin, sautéing onions and peppers, coconut and turmeric coming from the kitchen, you can be forgiven the romantic notion that you are any where but Central Texas.
A comprehensive menu of sub-continent comfort food—including samosas, pakoras, raita, naan, whole sheat chapatti, white flour batura, curries (vegetable, meat, chicken, fish and vegetarian), tikka masala, creamy saag, biryani and half a dozen tandoor kababs—suggests that G'Raj Mahal Café has a large kitchen.
Walk through romantic alcoves and enter the large central dining area, which is, as the menu says, "In the Back Yard" of 91 Red River, and you'll discover the restaurant kitchen is a step van.
Next door, you'll find a food trailer cleverly disguised as an African shack.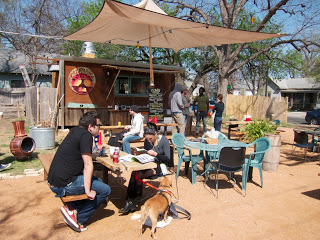 At Cazamance, customers love the setting and the friendly wait staff as much as the food. Co-owner and chef, Iba Thiam, originally from Senegal by way of Paris and New York, greets customers as they arrive.
With a wave of his hand and a smile, he offers a seat on one of the rough-hewn benches set around picnic benches shaded by a large tree and tenting stretching over the dining area.
The menu has a good variety of selections, offering Yassa chicken with mustard and lemon juice, Moroccan lamb sausage (a favorite among regulars), roast pork (a special not always on the menu), the Dakar boy's lamb burger, and, in addition to the fresh vegetable salads, vegetarian dishes including hummus with avocado, lettuce and a black olive feta dressing and roasted curried garden vegetables.
Entrees come either with rice, as a wrap, or in a bread bowl, curiously named "Bunny Chow." Soups vary daily and can include curry vegetable soup and peanut vegetable soup.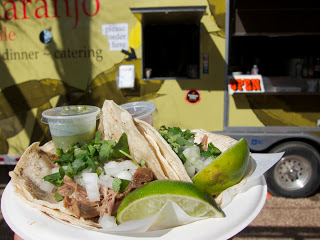 Around the corner, El Naranjo is parked in the driveway of a dilapidated house. A peek inside 85 Rainey reveals a renovation in progress. Bathtubs are lined up in the living room. Walls are stripped, ready for painting.
At some point, according to Ernesto Torrealba, he and his wife, co-owner and chef, Iliana de la Vega, will open the restaurant and take the trailer on the road.
Until then they will serve a mix of favorites from the Mexican interior, including tacos (beef, pork, chicken, shrimp), guacamole made to order, daily soups, molotes, mole, and tamales.
The quality is very good. Torrealba comments, "We don't serve trailer food but restaurant food. Some complain that we are expensive, but we serve the best versions [of Mexican classic dishes] with the best ingredients."
The slow braised pork (tacos carnitas estillo michoacan) and shrimp (tacos de camaron) are tender and sweet, benefiting from toppings of crunchy, raw onions and sprigs of fragrant cilantro. There is a choice of a green sauce (medium heat with a touch of sweetness) or the thick red sauce (fiery).
Open Monday-Saturday from 11:00am to 11:00pm, closed only from 4:30-5:00pm to replenish the kitchen, El Naranjo is well worth a stop off the beaten path.
Luke's is a mini-trailer with a maxi-idea. "Inside Out" describes owner-chef Luke Bibby's unique approach to sandwich making. Cutting open toasted sourdough or French loaves, he bends the halves backwards so the inside is outside. Why? The answer is the filling.
Luke likes his fillings dripping not only with flavor but juicy sauces and slaws. Putting the crusty-outside close to the fillings buys the customer precious minutes before the sandwich dissolves in the hand.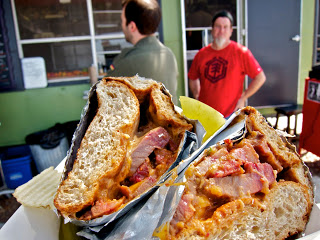 The sandwiches are named as if they were already icons: The Cow (tender, flaky brisket with griddled onion, smoked Gouda, and chow chow), The Vegetable (falafel burger with eggplant, spinach and muffaletta), The Pig (pulled pork with bacon, mozzarella, fried onions rings, and chow chow), The Caesar (grilled chicken, avocado and romaine with Caesar salad dressing), The Burger (8 oz. of sirloin, bacon, Swiss cheese & cheddar with toasted muffaletta), The Cheese (goat, brie & cheddar on griddled sourdough), The Chicken (spicy, breaded Szechuan fried chicken with sesame slaw) and The Shrimp (grilled rosemary chipotle shrimp with blue cheese, apple and honey on griddle sourdough).
Locals know to ask about off the menu specials like the Laredo Burger (8 oz. of sirloin with avocado and chipotle sauce), the Down and Dirty (meatloaf made with Cheetos, fried eggs, and tomato marmalade) and the soup of the day, which, on the day I had lunch, was Tiger Peach (chilled peach soup sweetened with honey and caramelized onions and spiced up with hot chilies).
Heavy on protein, fats and flavor, the sandwiches reflect Luke's back-story.
Bibby learned his cooking skills as a caterer to bands and at music venues. He knows a lot about what to feed hungry people who need a lot of carbs and calories to get through the day.
That attention to finger-licking, politically incorrect goodness extends to starters and non-sandwich menu items, which include Armadillo eggs (bacon wrapped fingerling potatoes on a bed of spinach to catch the grease), fried tuna fingers with sesame slaw and a plate of smoked brisket, sausage and chicken sticks with Shiner Bock BBQ sauce.
Austin prides itself on keeping it weird. For the food scene, that can mean taking familiar foods on a journey into unfamiliar territory.
Chi'Lantro, like Roy Choi's Kogi BBQ trucks in Los Angeles, puts Korean barbecue into Mexican tacos, burritos, and quesadillas.
Lucky J's, now with a brick and mortar restaurant as well as a trailer, uses waffles as tortillas.
The taco fillings are an eclectic mix: the Lucky J (fried chicken), Ms. M (Swiss cheese and bacon), Waffle Breakfast Taco (bacon, egg, potato, onions and cheddar), Chili Cheese Fry (potato, onion, cheddar and chili sauce) and Grandma Andy (bananas, peanut butter, Nutella and honey).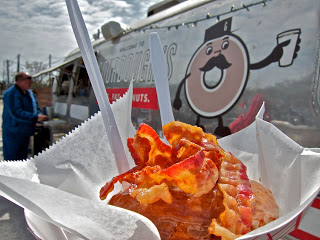 A popular trailer, Gourdough's ("Big. Fat. Donuts."), on South Lamar at Lamar Square reinvents the donut with a wink and a nod.
Reading the menu board leaning against the side of the airstream trailer, you know you're not at a Dunkin' Donuts.
At Gourdough's your choices are the Mother Clucker (fried chicken strip with honey butter), Miss Shortcake (cream cheese icing with fresh cut strawberries), Slow Burn (habanero pepper jelly with cream cheese topping), Son of a Peach (peach filling, cinnamon, sugar & cake mix topping), Dirty Berry (fudge icing with grilled strawberries) and Funky Monkey (grilled bananas and cream cheese icing with brown sugar) to name a few.
Locals talk excitedly about the Flying Pig (bacon with maple syrup icing). If you are a fan of Los Angeles' Roscoe's House of Chicken 'n Waffles, you know the flavor combination of crispy-salty-maple syrup sweetness can't be beat. Except if you add bacon.
In Austin, food trucks materialize everywhere, the way mushrooms pop up on a wet lawn. Driving around town, you'll stumble on groups of food trailers that create a country fair atmosphere.
Just east of I-35 on East Sixth Street at East San Marcos, chicken wire fencing encloses an encampment of six trailers. Strings of light bulbs stretch between the trailers, giving the cluster of trailers a good-natured carnival feeling at night. The food sold here is eclectic by anyone's definition.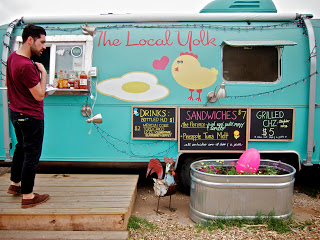 The Local Yolk is, as you'd expect, mostly about eggs. Serving deviled eggs, egg salad and tofu (no egg) salad, as well as fried egg sandwiches with unexpected toppings (pesto-mozzarella-tomato, hummus-black olives-feta cheese, cream cheese-avocado), there is also a sandwich with tuna fish and jalapenos.
Just across the dusty lot, Pig Vicious anchors the encampment with an "I like bacon" attitude that embraces BLT's along with peanut butter and bacon sandwiches, bacon wrapped fried pickles and even bacon shakes.
Parked nearby, as if to correct a cosmic imbalance created by bacon-crazed Pig Vicious, the Vegan Yacht run by husband and wife, Danielle and Mike, serves up good-tasting veggies even meat eaters rave about.
Seafood is represented by Bits & Druthers which holds its own with fish and chips and Cole slaw with thin slices of radish. Everything they serve, including the mayonnaise and all the ice creams, they make in house (or, maybe, more correctly, in trailer).
The block of South Congress between East Monroe and East Milton has an even larger gathering of trailers.
In the middle of the pack, Diner on Wheels bills itself as a Southwestern diner serving sweet potato fries, hot dogs and burgers, as well as tacos with delicious, home made, charred green chile sauce.
Happily eating a basket of sweet potato fries from the Diner, local Eliza Loyola explains that this encampment is not unique. "Food trucks have taken over South Austin. They are on South Congress, South Lamar and South First."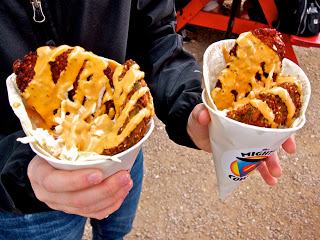 The Mighty Cone is famous for serving chicken, shrimp or avocado and combinations thereof, coated in a batter of sesame seeds, chili and corn flakes and eaten in large soft tacos inside paper cones.
Wurst Tex specializes in grilled brats and assorted sausages. Next door is Coat & Thai and Bar-B-Que-T, which is outfitted with Astro turf and ATM machine for the convenience of customers.
A great dessert spot, Cutie Pies sold desserts from a micro-mini trailer that was, until recently, hidden behind the Mighty Cone. With an armful of awards and a big fan base, tiara-crowned, Jayne Buckingham, the self-proclaimed "Pie Queen," recently opened a shop at 7329 Burnet Road. Now she has a place to call her own to sell her mini-pies, whole pies, savory pies, and—no fooling—pie shakes.
Talking about her baked goods, she proudly points to the fudge brownie pie, which, she says with a sly smile, "Solves all your problems for five minutes."
In Austin, Cutie Pie's experience amounts to a business plan. Start a food truck or trailer with modest start up costs, build a fan base and move into a brick and mortar restaurant.
David Latt is an Emmy-award winning television producer who turns to cooking to alleviate stress. He shares his experiences with food and his favorite recipes on his blog Men Who Like To Cook.