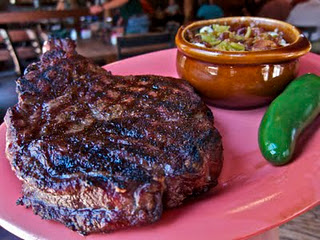 Buffalo Gap is only a few miles south-west of Abilene. The small town (population 463) has a fascinating Historic Village, a must for any western history buffs.
The jewel of Buffalo Gap is Perini Ranch Steakhouse. Located down a twisting dirt road, the steakhouse is in a converted barn with an outdoor patio cooled by lazily turning overhead fans.
Perini's is the brainchild of Tom Perini, born and bred a Texas cattleman. He loves cattle ranching but confesses there is no money to be made that way.
Faced with losing the ranch because he couldn't earn enough raising cattle, his mother told him to turn to cooking, something he had been doing for years on cattle drives. Everyone loved his down-home, ranchhand-pleasing dishes.
That's what you'll get at Perini's. Steaks, fried chicken, ham, chicken fried steak, hamburgers, catfish, and ribs come out on huge plates, designed to satisfy the hungriest of cowboys.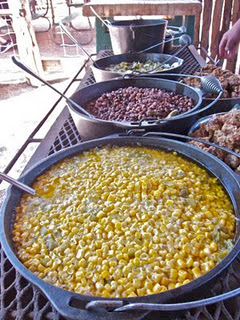 There are all the usual sides you'd find on the barbecue trial--corn, flat green beans, corn bread, mashed potatoes, red beans and biscuits--as well as some excellent additions like black bean and corn salad, romaine and head lettuce salad with blue cheese and minced bacon and delicious, creamy green chile hominy with bacon and cheddar cheese.
For dessert, locals insist the bread bread pudding is a must, the combination of Jack Daniels whiskey sauce, sourdough bread croutons and pecans is to-die-for.
I had some myself, so I can testify to the truthfulness of that statement.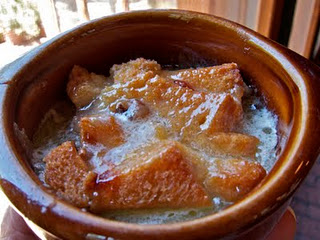 Perini's serves lunch and dinner and--a really great way to experience the setting--Sunday brunch. Locals testify to the pleasures of a leisurely Sunday morning spent at the ranch, a cowboy bloody mary with horseradish and pickled okra in one hand and a piece of crispy fried chicken in the other with the prospect of enjoying more of the chuck wagon favorites outside on the patio buffet.
If I lived in the area, I would happily make Sunday brunch at Perini's a weekend tradition.
David Latt is an Emmy-award winning television producer who turns to cooking to alleviate stress. He shares his experiences with food and his favorite recipes on his blog Men Who Like To Cook.