People talk about "cancer scares" like they're monsters in our closet ready to pop out while we're sleeping. Pam Braun had a cancer scare of Freddy Krueger proportions. Hers made other monsters look like those of the fuzzy Pixar variety. Pam decided that she didn't really want to have cancer and that there had to be a way through it. She found that way in food. You could say she cooked and ate her way through cancer. Now she has a cookbook: The Ultimate Anti-Cancer Cookbook
that shares her healthy recipes. Pam tells us what got her through that nightmare and out on the other side.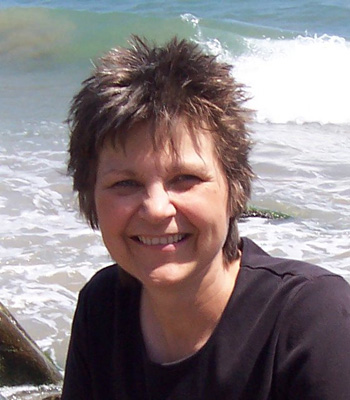 You had a 15% survival rate. What were your first thoughts and reactions?
When you first get a diagnosis like that, you pretty much stop breathing and can hardly speak. Being a baby boomer, my immediate reaction was that my life was over. Back in the 1950's, a cancer diagnosis pretty much meant a death sentence. Of course it's not that way anymore, but that's where my head went first. Some people say cancer is a gift. For me it was in many ways. One being, after you get the diagnosis, you pretty much have instant clarity as to what's important in life and what isn't. Instantly! It's like a light switch going off in your head. "Oh, that's what life's about!" After a couple of days though and the news had time to sink in, I got incredibly calm about everything, oddly so. I kept waiting for the other shoe to drop and to get really upset, but it never did. I just stayed calm. I thought, "I'm going to do everything in my power to survive, but if I don't, then I guess it wasn't meant to be." I was recently told, that people who adopt that kind of "letting go" attitude, do better at surviving. Clearly it worked for me.
How did you find food as a healing tool?
My brother-in-law had gotten cancer a couple of years before I did. My sister started researching food for him, so when I got sick, I already had the idea of food as medicine in my head, so I just started my own researching. When I got sick 9 ½ years ago, there wasn't too much scientific evidence out there. Since then, a lot of data has come out showing that certain foods may help cause cancer and certain foods may help prevent it. However, my odds were so low, I knew I had to do everything within my power to help myself. It just made sense to me to stay as healthy as I could through the cancer journey. It seemed more logical to me to eat a salad rather than a jelly donut.
Cooking is a relaxing and creative process for me. When I first started changing my diet to a primarily plant-based diet, I wasn't going to just eat a plate of steamed vegetables. I like to cook too much and I like to eat way too much for that. I am not one of those people who just eat to live. I live to eat.
What is it about the power of food, or healthy eating, that you believe in?
I believe with all my heart that food is the reason that I'm still here. The kind of cancer I had has a high recurrence rate, yet I have never had a recurrence and I remain cancer free. I was involved in a national clinical trial right after I got clean from the cancer. The drug that was being tested was for women who had gotten clean from late-stage ovarian or fallopian tube cancer. Most women do get clean from ovarian/fallopian tube cancer. They just don't stay clean, because the cancer keeps coming back. The drug was supposed to be a 5 year study and help women stay in remission. After 9 months they stopped the clinical trial because too many women had gotten their cancer back. It was clear the drug wasn't working. I was the only woman at my hospital who had not fallen out of remission. Results from other studies are now beginning to show that eating right can not only help you prevent cancer, but can also prevent a recurrence. The line between food and medicine is blurring.
What, in your opinion, are some of the healthiest foods someone could introduce into their diet?
More importantly is what to omit from your diet, and that's pretty much processed foods, red meat, processed meat, unhealthy fats, and too much salt. The foods that I try to include in my daily diet are berries, citrus fruits, cruciferous vegetables, garlic, dark chocolate, red wine, onions, soy, Omega 3's, herbs and spices, and fruits and veggies. There's no magic food, it's a healthier way of eating than most of us are used to. It's basically more fruits and veggies and less processed foods. If you start slowly and make small changes in your daily diet, eventually it will seem easy to make the change. The book is not all vegetarian, however. There are some fish and chicken recipes, and even a turkey meatloaf recipe.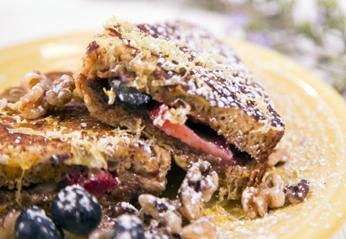 What's your favorite recipe from your book? And your second favorite?
I've got a lot of favorites, seems like I usually have a monthly new favorite. However, I think my favorite recipe is the Stuffed French Toast. It is ridiculously easy to make (it's really just an almond butter and fruit sandwich) yet it looks and tastes like some decadent, fancy, expensive breakfast. It consistently impresses company and garnishes rave reviews. Easy and delicious is always a good combo. My second favorite recipe is probably the Salad Pizza. Pizzas are really an easy, quick meal if you make up the dough ahead of time. The combo of the pizza topped with a nice, fresh, crisp salad is not only a beautiful dish, but a really great contrast of tastes between the hot and the cold.
What's a quick healthy dinner someone can make after they've come home from a long day at work?
It's no secret that in order to eat more healthfully, more time is going to be spent in the kitchen. However, if you get your kitchen and yourself organized, it can be pretty simple. I work full time and want a healthy, home cooked meal when I do get home. I've learned to spend a couple of hours on the weekend cooking and prepping for the coming week. Then when I get home, I've got a healthy meal waiting without any hassle. Probably the easiest recipe in the book, is Refried Beans, Rice, and a Salad. Sounds simple, and maybe a bit boring, but it's anything but. It's a very impressive meal and looks like a lot of time was spent in the kitchen preparing it. Yet it's a 5-10 meal that's good enough to serve to company. Most of my recipes are easy to make, yet impressive to serve. There is no almond encrusted salmon in my book. Not that I don't like dishes like that, but most people are not going to come home after a long day's work and start encrusting salmon for their family. The recipes are geared toward using everyday foods for everyday meals to help you and your family prevent cancer. The book is not filled with special occasion recipes, rather everyday recipes.
What's next for you?
Who knows? I thought at age 61 I might be "putting my feet up" soon and possibly retiring. Now with the book out, I seem to have begun a whole new chapter of my life. It's funny that 9 ½ years ago, when I got the diagnosis, I thought my life was over and instead it was just the beginning of something that ultimately turned out to be new and exciting. Now that the book is finally finished, I also have more time to give back to the cancer community, which I have already begun doing. It's important to me to be there to help others. Just the fact that I've been through it and I'm still standing is an inspiration to others. I know I felt the same way when I was sick. I wanted to talk to anyone who had survived my type of cancer. I wanted to know that it could be done. Now I can do that for others. Once you are member of the "crummy cancer club" we stick together and try to help each other any way we can. And of course, there's always another cookbook pending, as I continue to research and "play with my food".
What about food and cooking excites you?
I started cooking at a very young age, about 10 years old. My mom got sick, and my sister and I started cooking for a family of seven every night. I got very comfortable in a kitchen early on. I managed my first restaurant by the age of 21 and owned my own restaurant by age 29. So, food and I are old, good friends.
I'm a very creative person and cooking is a creative process. It's fun to "put it all together" and see what you can come up with. Also, as I stated before, I LOVE to eat, so it's exciting to not just eat healthfully, but eat well. I also love sharing food with others. It's very rewarding to make people happy through food.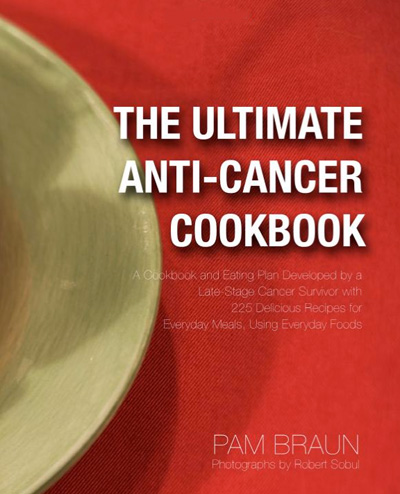 Tell us a little about your cookbook: how did the idea come about, and how long did it take until you saw it in print?
I really started the cookbook immediately after I got sick and started researching and experimenting with different dishes. I started writing recipes down on small pieces of paper, thinking, "Maybe someday, I'll write a cookbook." After 6-7 years, I had a lot of little pieces of paper and I thought, "I'd better pull this all together or I'm going to be even older and greyer than I already am before this happens." So I got organized, wrote the recipes down properly and asked friends and family all over the country to test the recipes. Then I set my sites of finding a publisher and from there, the book has really had a life of its own. The whole process took about 9 years from start to finish.
What advice can you give to someone who may find themselves in a situation you were in?
First of all, know that there isn't a stage from any cancer that someone hasn't come back from. Try to stay calm and don't listen to statistics, because we aren't statistics. Don't let the doctors do all of the work. We have to do everything within our power to help ourselves survive and be a part of the solution. Eating healthy, exercising, maintaining a healthy weight, reducing stress, and getting enough rest are all important. Ask questions, learn as much as you can about your disease and the recovery process. If you don't like something speak up! If you can't talk openly to your doctor, get another doctor. It's your life! Knowledge is power. Get as much of it as you can. Don't just follow along and say "Yes, doctor." Ask why or why not? Work at being a part of your recovery as much as possible. I heard a quote once from someone who gave me the same advice when I got sick, "Good little patients are often dead little patients." Don't be afraid to make waves!
Of course, by far, the best advice I can give anyone is to do everything you can to avoid taking the cancer journey in the first place.
Thanks, Pam! It's cliché as hell to call you an inspiration, but clichés be damned: you're an inspiration.
And now, for one of Pam's quick cancer-fighting kitchen tips:
Raw garlic shows great potential as a cancer-fighter, however cooked garlic has been shown to lose its cancer fighting properties. So, get in the habit of crushing/mincing/chopping your garlic first, then go about preparing the rest of your recipe. Allowing the crushed garlic even ten minutes to rest enables the garlic to hold on to its anti-cancer properties through the cooking process.
And here's Pam's recipe for an antioxidant-powered stuffed French toast!
Stuffed French Toast
4 pieces whole grain or whole wheat bread
4 tablespoons almond butter
2 bananas, sliced thinly long-ways
4 large strawberries, sliced thinly
1/2 cup fresh blueberries
1 egg, 2 egg whites
1 cup nonfat or soy milk
1 teaspoon cinnamon
1/2 teaspoon salt
1/2 teaspoon almond extract
Zest of 1 large orange
Zest of 1 large lemon
1/4 cup chopped walnuts, toasted
Dusting of powdered sugar (optional)
Canola oil spray
Spread almond butter evenly over 4 pieces of bread, as this will help hold the French toast together. Place the sliced bananas evenly on top of almond butter on 2 pieces of bread. Place sliced strawberries evenly on top of banana slices and blueberries evenly on top of strawberries.
Make 2 sandwiches by placing the almond butter covered pieces of bread on top of the fruit layered pieces of bread. Press the sandwiches down lightly so that they hold together when dipped into the egg mixture. Cut sandwich into quarters diagonally.
In a medium bowl, mix the egg, milk, cinnamon, salt, and almond extract, and whisk together well. Dip the sandwich quarters into the egg mixture to coat thoroughly.
Preheat a griddle or skillet to medium. When you are ready to place the French toast on the griddle or skillet, spray the preheated griddle or skillet with canola oil spray.
Place the dipped sandwich quarters onto griddle or skillet and cook for 3 minutes on each side, flipping the sandwiches until both sides have a golden brown color. When finished cooking, dust with zests and toasted walnuts. Dust with a very light dusting of powdered sugar, if desired. Serve with Fresh Fruit Compote.
Serves 2-3
Almie Rose is a writer from Los Angeles.She has a blog, Apocalypstick. She also writes for Hello Giggles, The Frisky, Thought Catalog, and Genlux Magazine. Her book, I Forgot To Be Famous, is out now. Her favorite pastime is eating and drinking and sleeping and then eating again.