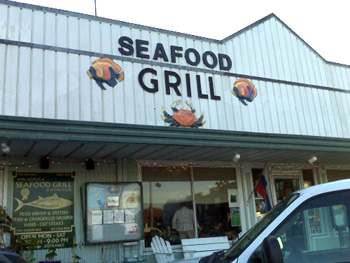 On the second day of our Florida trip, we dined at one of our favorite, always good, "coming home" restaurants in Apalachicola: The Apalachicola Seafood Grill. Located in the heart of "downtown" Apalachicola (within spitting distance of the town's solitary traffic light) , The Grill offers a simple menu, The World's Largest Fried Grouper Sandwich, an impressive assortment of beer (you get your own bottle) and the motto "No Whining." We have been eating at The Grill at least once a trip since Sam was two and threw a sippy cup at the front window. We've not been disappointed. I have had everything on the menu that I want to try, and the Grill is not the kind of restaurant that changes it's menu. There are fresh shrimp, oysters and fishes fried, baked, broiled, in soups, stews and chowders, in sandwiches and/or in baskets. City folk can have a salad with seafood in it, if they insist. If I arrived at The Grill to discover that they were offering a terrine of langoustine on a bed of microgreens with a Guiness reduction, I would burst into tears.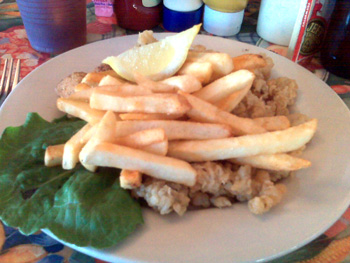 I will admit that, with no shame, I ordered another fried oyster basket because it's one of my top two things to order there (the other being the Oyster Stew). I also wanted to compare them to the previous day's offering at Papa Joe's, to see which I liked best. That's my story, and I'm sticking to it. If one can't eat fried food every day of the week in the South, one should stay home with one's flaxseed bread and grilled chicken breasts. Anyway, the oysters were excellent, as always, but I didn't love them as much as I loved them at Papa Joe's. The breading was a little denser, and the idea (in my opinion) of a fried oyster is that there should be only the merest hint of salty crisp outside the oyster, so that there is a contrast that highlights the juicy sweetness of The Main Event. The oysters were delicious, my Dixie Beer was refreshing, and it was a pleasure to be in a place that I love, but next year I'm going back to the Oyster Stew, which is probably the best I've ever had.
Prior to dinner at The Grill, we ventured into the Piggly Wiggly in Apalachicola. I always enjoy visiting a "foreign" grocery store (Rob had to drag me out of a convenience store in Puerto Rico because I was so fascinated by the merchandise) and the P-W wasd no exception. First off, I was fascinated by the store's bags, which were emblazoned with a pig wearing an apron that said "I Love Barbecue." There's a cry for help, if I ever saw one. Second, I was just really interested in all of the things they sold that I had never seen before. I walked around taking pictures, no doubt causing the locals who were actually buying food to think that I should probably visit Community Mental Health along with the self-loathing pig. My friend Michelle says I am the only person she knows who takes pictures in the grocery store, but see if you don't learn a lot about the culture in Apalachicola, Florida, from my finds…..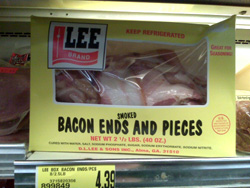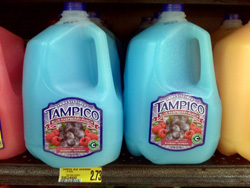 Ann Graham Nichols cooks and writes the Forest Street Kitchen blog in East Lansing, Michigan where she lives in a 1912 house with her husband, her son and an improbable number of animals.