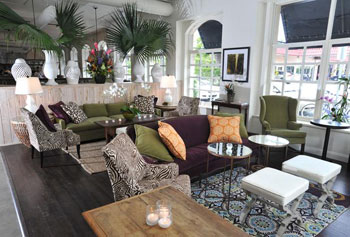 If ever there is a restaurant – cool and hot at the same time – that belongs somewhere wondrous like in LA, buccan is it. Unbelievable beyond adjectives and totally filled with great vibes, buccan is only a plane ticket away...in Palm Beach! OMG A hot spot in Palm Beach?
"buccan is so good I come here on my night off." Quite a compliment, but also quite remarkable, as the compliment is coming from our friendly and comely buccan waitress! She might have added that this new, nearly unbearably delicious restaurant is also the first true hot spot in Palm Beach! One step across the threshold and anyone can feel the jovial spirit of laughter and merriment.
Started by Palm Beach bachelor, Piper Quinn and Chef Clay Conley, buccan brings not only a new hip-but-gracious aesthetic to Palm Beach; it brings a new way of dining.
The first sight upon entering buccan is the large, casually decorated living room-like lounge with its bar to one side. Its' cordial ambience brings in customers early to capture a sofa or armchair. Beyond the living room, there are three loosely defined areas of dining: an isolated communal table which seats up to twelve and can also be reserved for small private dining, the main dining area which holds about 100 dinners, and a smaller, quieter section off to the side. (And, by the way, there is no Siberia!) The long narrow kitchen is open, spanning the width of the main dining area, and a few tables lie alongside, allowing a few lucky dinners the fun of watching preparation. Local produce is used whenever possible.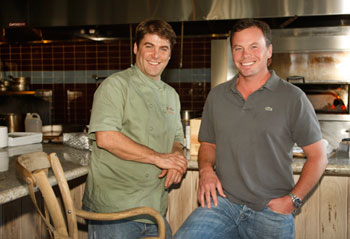 Piper Quinn reckons he knows about fifty percent of his customers, but judging by the popularity and the high-keyed excitement every night, the beautiful, young and the restless arrive early and stay late. Even their slow night – Sunday – is opened until 12:30.
However, it is not just the fabulous atmosphere that brings guests to buccan, it is the food! Loosely based on Spain's small portion Tapas' presentation, combined with a daring fusion-driven menu influenced by the Latin culture in Miami and Japanese cuisine, happy "foodies" can pick and choose delicacies under such headings as Raw, Green, Flour and Water, Wood-Fire Roasted, Wood-Fire Grilled, and my favorite, Crispy.
Their home made Burrata with heirloom tomatoes and pesto with its delicate, creamy center is the best I have tasted. There are many delectable choices on buccan' s menu, but if their Burrata is offered, I will order it! (Actually, I lied. The last time I ws there, I just passed up the Burrata in favor of Crispy Zucchini Blossoms).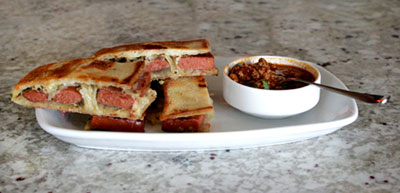 I was told to try the Baby Kale with currants, pine nuts, Parmesan and lemon vinaigrette as it is delicious, but my eye fell to the item below it under "Crispy": Hot Dog Panini with sauerkraut, mustard, gruyere cheese and chili, which "brings tears to your eyes", as my darling husband, Bill said. The chili is subtle and sophisticated creating a very rich complex grouping of flavors held together with melted Gruyere. Beyond yummy, it brings one's inner child to the table! No wonder there is such laughter and merriment! Other Crispy dishes include Sweet Bread and Mushroom Springroll and Lobster Empanadas with Salsa criolla, aji amarillo.
Under Flour and Water, there are such offerings as Squash Ravioli with brown butter, sage and Parmesan; Squid Ink Orrechiette with sausage, conch, basil and chilies; and Braised Lamb Shank Risotto with feta cheese, eggplant and tomato. I think my favorite however, is from the Wood-Fire Roasted – a Wild Mushroom Tart with Marsala glazed onions, gruyere, and a black truffle vinaigrette, which was wonderfully intense.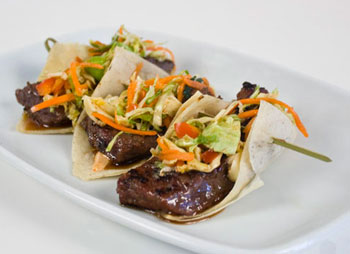 The miracle of buccan is not only the choice and flavor of their menu; it is also their pricing. For example, their brilliant Korean Short rib Tacos with kimchi and sesame is only $14. The most expensive dish on the menu – one of the few "Large Plates" – is their Wood Grilled Beef Sirloin steak with asparagus and pommes frites, which is priced at $27.
Sunday Brunch serves tapas size portions of Wood-fired ham and egg pizza, with asparagus tips and fontina cheese; biscuits and pepper gravy Southern style, a perfect Eggs Benedict with fire-roasted heirloom tomatoes and smoky bacon; and large plate buttermilk soaked fried chicken, with black pepper gravy and country mashed potatoes (which NO ONE shared with me!) The all-you-can-drink mimosas, bloody Mary's and house-made sangria are $25.
Without a reservation, the wait can be hours – though no one at the bar seemed to be impatient! It is worth the wait, but with reservations, the evening will truly make your day! Too bad buccan isn't in Malibu!
Chef Clay Conley's Hot Dog Panini and Chili
1 pizza dough
1 Hebrew National hot dog
2 oz braised sauerkraut
2 oz gruyere
1 oz caramelized white onion
1 tablespoon mustard aioli
Slice hot dog lengthwise, then griddle. Place on half of pizza dough and layer with sauerkraut, gruyere, caramelized onion, and mustard aioli. Fold over other half of dough to create a "pocket." Place the sandwich on a heated pizza stone in a 500 degree oven and bake until crispy, about 5 minutes. Flip over and bake other side until crispy, about 5 more minutes. Serve with side of chili.
Braised Sauerkraut:
2 cups sauerkraut
4 oz diced bacon, rendered
1 white onion, julienned
1 teaspoon caraway
1 cup chicken stock

Braise, covered, at 350°F for 1 hour.
3-Mustard Aioli:
1/2 cup mayo
2 tablespoons Dijon
2 tablespoons whole grain
2 tablespoons French's yellow

Blend completely.
Chili:
5 lbs ground chuck
2 tablespoons garlic
1 white onion, diced
2 stalks celery
6 tablespoons cumin
6 tablespoons Indian chili powder
3 tablespoons coriander
2 tablespoons aji panca
1 cup white wine
64 oz canned tomatoes
1 dried Mexican chile, rehydrated and chopped
2 cups chicken stock
Cook meat in large stock pot over medium-high heat until brown, approximately 10 minutes. Pour off rendered fat. Add garlic, onion, celery and cook until soft. Add spices and cook down, about 5 more minutes. Deglaze with wine, then add tomatoes, chile and chicken stock. Simmer covered until meat is tender, approximately 1 hour. Uncover and simmer another 30 minutes until thick.
Chef Clay Conley's Lobster Tacos with Bacalao and Mango Salsa
Marinated Maine Lobster:
4 - 3 oz lobster tails, raw
4 tablespoons blended oil
2 teaspoons garlic, chopped
1 teaspoon ginger, chopped
1 teaspoon cumin
4 oz aji panca
2 tablespoons white wine vinegar
Sauté garlic and ginger in one tablespoon of oil in a skillet over medium heat. Add cumin, aji panca and vinegar and allow to cool. Transfer to a blender and emulsify the remaining oil over medium speed. Mix with lobster tails and marinate 6-18 hours.
Bacalao:
8 oz salt cod, soaked for 24 hours with three water changes
8 oz regular cod
1 quart milk
3 tablespoons extra virgin olive oil
1 leek, chopped
3 cloves garlic, chopped
1 cup heavy cream
2 potatoes, cooked and riced
Bring milk to a boil over medium heat. Poach the salt cod until soft and flaky, about 15 minutes. Remove. Then add the fresh cod to the milk and poach. When flaky, remove. In a sauté pan add EVOO, leeks and garlic and cook over very low heat until soft. Add cream and reduce until thick. Fold in potatoes and fish and adjust seasoning. Keep warm.
Mango Salsa:
1 mango, diced small
2 tablespoons red onion, minced
1 teaspoon jalapeno, minced
2 tablespoons chopped cilantro
1 tablespoon red pepper, minced
Juice of one lime
Mix all ingredients and let sit for flavors to meld.
Final:
8 4" soft flour tortilla
8 4" crispy corn tortillas
Picked cilantro leaves
2 tablespoons butter, melted
Over a wood fire, grill marinated lobster tails until cooked. Remove from heat and chop. Keep warm in melted butter. On the center of a warmed flour tortilla slather 1 tablespoon of bacaloa over the entire surface. Place the crispy corn shell inside and "glue" the two tortillas together with the bacaloa. Place the grilled lobster in the corn shell and garnish with the mango salsa. Top with cilantro leaves.
Wine Pairing: Cuvaison Chardonnay, Napa Valley
buccan – 350 S. County Road, Palm Beach, FL 33480 - 561-833-3450
Nancy Ellison, award winning photojournalist and celebrity portraitist, has authored fourteen books of photographs, including "Romeo and Juliet: The Love Story in Dance" and "Starlet". Her newest book, "Wagner's Eternal Ring" was published in September 2010 by Rizzoli.