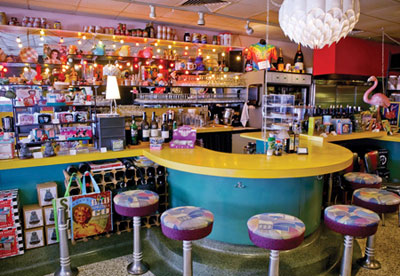 OK... it is better than not coming at all!
There is something rather delicious about "discovering" a restaurant and doing the brag only to find everyone in the room has been eating there for decades. That happened to us last week when we discovered Rhythm Café in the center of West Palm's Antique Row - a true "café" converted from a 1950's drugstore which explains the funky exterior window and serpentine counter. Décor is tacky 50's and the joint is filled with odd 50's and 60's adult toys, pink flamingos and vintage prom photos. (If you bring them your prom photo you get free dessert.)
It is even funkier than I can describe but as you check out the menu the first bit of information offered is a check list of stuff not welcomed at their place: Perfume, for example, can be worn but only the person whispering sweet nothings in your ear should be able to smell it (21 gun salute for that!); Complaints are not accepted, nor grumpy behavior. The list goes on, but it is clear Rhythm Cafe chooses its clientele! And, after reading the menu, if you don't like its' yummy descriptions, then leave immediately, for Rhythm Café is all about its yummmmmmmmmmm factor!
First course dishes are listed under "TAPAS-TIZERS" and offer such tidbits as "Cheese on Fire" AKA Saganaki, a dish "found in many a Greek diner, Kasseri Cheese set aflame with brandy right next to your table, extinguished with lemon, served hot and bubbly with warm pita bread - $11.95), Fiocchi, "delectable pear and cheese filled pasta purses splashed with orange infused cinnamon brown butter, and a sprinkling of chopped fresh basil", and Blackened Shrimp, "Shrimp dusted with Cajun seasoning then thrust into a screaming hot cast iron skillet until cooked to yummyness, lavished with festive peach chutney." Oh my! Everyone is orgasmic here! Main courses include a variety of fresh fish either onion crusted, blackened, amandine, or made with pomegranate and leaves.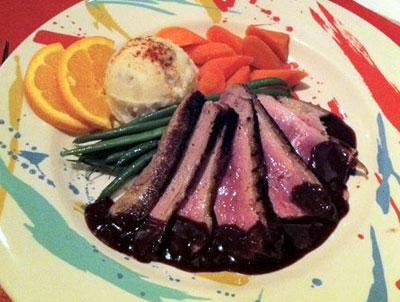 But to belabor the "food as sex" metaphor, the true climax at Rhythm Café is their remarkably delicious meat entrees: Duck Breast "seared in a frighteningly hot pan until dark and crispy" that can be sliced with a fork, a variation on Julia Childs' Boeuf Bourguignon, and a Barbecue Pork Shank "a substantial pork shank slow cooked in our special tangy barbecue sauce until delightfully tender" that is the best I have ever had - including those great Barbecue greasy spoons in the south. (And, boy, did the leftovers make fab pork fried rice)
Since I never (hardly ever) make it to dessert, I was startled by the genuine "yummyness" of their homemade desserts: Chocolate Bourbon Pecan Pie, Coconut Quiche, and Ken's Peanut Butter Pie, ("a light peanut butter mooseyish filling in a fan-freaking-tastic crust of chopped peanuts and chocolate chips").
I left wondering when we could return and where did the chef get his incredible gaudy tie-dye chef paints, which I coveted.
PS Oh, does Rhythm Cafe belong on the Left Coast!
RHYTHM CAFÉ - 3800 A. South Dixie Highway, West Palm Beach, FL
Nancy Ellison, award winning photojournalist and celebrity portraitist, has authored fourteen books of photographs, including "Romeo and Juliet: The Love Story in Dance" and "Starlet". Her newest book, "Wagner's Eternal Ring" was published in September 2010 by Rizzoli.