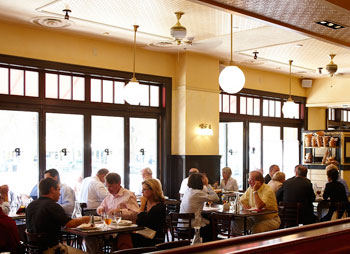 There used to be wonderful French bistros in my neighborhood in New York City, but one by one they are disappearing, leaving me drowning in pasta sauce and nearly Moules Mariniere deprived! But, in West Palm Beach (of all places) there is a delicious Palm Beach Season alternative – Pistache. And, it has the grace to actually look the part.

The first clue that you are in the land of the French is that there dogs sitting politely by their masters on the terrace as you walk in. So civilized dining with dogs! And, so cozy; everything is exactly as one would expect from a Bordeaux native managed Bistro – except for the waiters, who insist on being friendly!

The menu has a few surprises such as the Lobster Mac and Cheese – a dish I would normally cherish – but I had an agenda: Burgundy Escargots in Garlic Butter. They arrived juicy and fine textured. Other appetizers ordered were an elegant and freshly made beet salad with small bits of chevre on arugula and a traditional beef based Onion Soup Gratinee with Gruyere Cheese. We were off to the perfect culinary memory experience.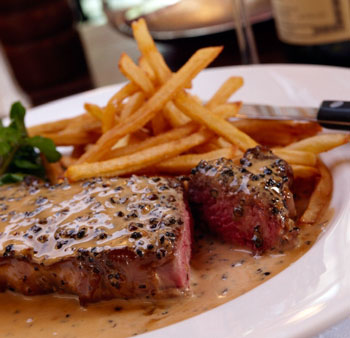 On the menu was a dream Bistro Plate with a choice of 3, 5 or 7 options including such treats as Reblochon, Point Leveque, Morbier and Cabecou from the fromage selection, and from the Charcuterie – Hard Saucisson, Duck Mousse, Garlic Sausage, Duck Prosciutto, Terraine of Foie Gras and Pate De Compagne. I was quite prepared to order the death-defying 7 choice plate, but as my darling husband was favoring the 3 option order, so I switched to the classic Steak au Poivre - ordered "saignant" (or really black and blue I stressed.) It arrived with a raw center. Well, I asked for it! Though the center was ice cold, it was quite tasty. My pommes frites were skinny shoestring French Fries and absolutely yummy. Also ordered and quite delicious were Moules Frites Mariniere and a perfectly prepared Veal Chop.

We passed on dessert but were favored with a light and delicious St Germain Elderflower Liqueur digestif. A perfect way to end a nearly perfect meal! I suppose if one begins talking about the next meal at that restaurant as you are walking out the door, it has served you well – n'est-ce pas?
Pistache French Bistro
101 North Clematis Street
West Palm Beach, FL 33401-5500
(561) 833-5090
Nancy Ellison, award winning photojournalist and celebrity portraitist, has authored fourteen books of photographs, including "Romeo and Juliet: The Love Story in Dance" and "Starlet". Her newest book, "Wagner's Eternal Ring" published by Rizzoli.