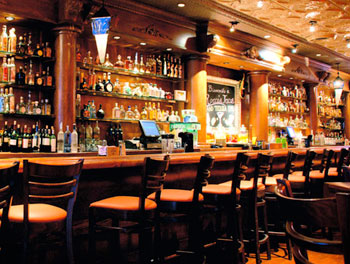 There is the neighborhood Mexican Restaurant – good solid simple Mexican food with waiters who are kind to children and ask all women under 50 for their ID when they order beer. (I used to LOVE that!) There is the tourist Mexican Restaurant Emporium that sells T-shirts, sombreros and disappointing but familiar fare. And then, there is the vaguely upscale hip and you-definitely-have-a-chance-of-getting-laid joint that is a great bar first – Mexican food second kinda place. Rocco's Tacos in West Palm Beach is that kinda place!
So lets start with the bar. It is a glorious bar extending the length of the restaurant. With chair back stools, oak paneling and extensive menu of Tequila, Mezcal and other south of the border spirits, one could happily spend the night sitting at this bar drinking Tequila shots and holding it all together with Jalapeno Poppers and freshly made Guacamole. Should one's eyes start to roll about, one might even notice the wondrous chandeliers and tin (or faux-tine) ceiling that give the place such a warm air of pre-coital romance. Far be it of me to break the mood by suggesting their food only pretends to be marvelous. (And, for that matter if one's eyes are indeed rolling about, who cares!)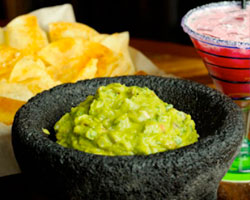 Good News! The tables are inside-outside, and on a balmy Palm Beach winter evening that is divine, and all the better to view pretty young things approaching. Our friendly waitress was charming and her large pitcher of Margaritas was immediate and delicious. Everyone loved the Chips and Salsa. (I thought it all tasted packaged and chemical – the grumpus speaks!)
The Guacamole was fresh and tasty, but the Tostada Barbicoa – a crisp handmade corn tortilla, pulled pork in Texas BBQ sauce, and thick Mexican crema – was mushy and sadly disappointing. If only I had ordered the Ceviche Del Dia made with Fresh Tilapia. Our friend Shannon ordered it and it was perfection. The Cochanitas Pork Tamale was a steamed Masa cake topped with pulled pork in BBQ sauce. No banana or cornhusks in sight.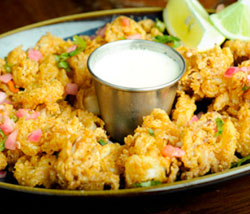 Usually, my first visit to a Mexican Restaurant requires that I order Enchiladas Mole Poblano. It is how I judge the quality of cooking from the kitchen, but I erred and ordered Pollo Mole Poblano instead; two thin grilled Chicken breasts, tough and tasteless, with a lackluster Mole sauce that tasted like coals from a Christmas stocking. Bummer! Bill and Shannon loved their dinners: Both ordered combination plates that included Skirt Steak Tacos, Taco Carne Molida, Chiles Rellenos, Taco de Pollo and Quesadillas.
Well, the experience was marvelous, if not all the food. Rocco's Tacos is my Mexican Restaurant of choice in the area for the time being, but my Quest continues. In the meantime, its Ceviche, Poppers and Guac! Yeah Baby!
Rocco 's Taco & Tequila Bar
www.roccostacos.com

224 Clematis Street
West Palm Beach, FL 33401-5513
(561) 650-1001