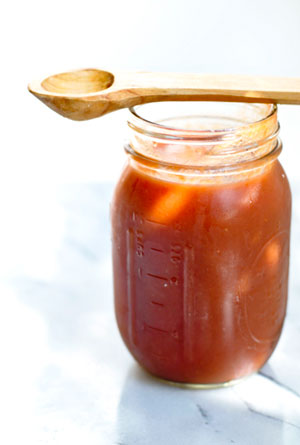 The supermaket shelves are lined with bbq sauces, ketchup, salad dressings, and marinades. Over the past couple of years, I have stopped purchasing almost everything and anything, such as the list above, that can easily be made with pantry ingredients. I have always made my own salad dressings, I keep jars of homemade barbeque sauce in the fridge, and making fresh salsa could not be easier. My freezer is filled to capacity with chicken stock, beef stock, vegetable stock, marinara sauce, bolognese, pesto, doughs of all kinds, and red enchilada sauce.
I have spent the last three months trying my hand at ketchup. The first few batches were very "vinegary". Others were too spicy. The rest were too thick. I have lots of ketchup that I can not throw away. I have found ways to use up the not-so-perfect ketchup. My BBQ sauce calls for 4 1/2 cups, I slather my turkey loaf with ketchup before baking, and my homemade baked beans uses 28 ounces of ketchup. Needless to say, I have a lot of barbeque sauce on hand. Who wants some?
My kids use a lot of ketchup. They like it on their sliders, they eat it with yam fries, roasted potatoes, turkey meatloaf, and chicken burgers. We were going through a lot of ketchup and although I knew what ingredients were in a bottled ketchup, I closed my eyes and looked the other way. I can no longer look the other way. If I am consciously trying to fill my kids up with as much organic fruits, veggies and other sources of fuel as possible, how could I possibly feel good about giving them ketchup made with things I cannot pronounce?
Through lots of trial and error, I think I have come up with one that my kids don't turn their nose up to. Isaac, the finicky one, gobbled it up and Eli paid me the ultimate compliment. After administering the taste test, he said, "mom, this tastes like Umami Burger's ketchup". Bingo! We have a winner!
Homemade Ketchup
Adapted from here

Ingredients:
1/4 teaspoon cloves
1 1/2 sticks cinnamon
1 bay leaf
1⁄4 teaspoon celery seeds
1⁄8 teaspoon chile flakes
1⁄4 teaspoon ground allspice
2 1/4 lbs. tomatoes, stem removed, chopped
1 1⁄2 teaspoon Celtic sea salt
1⁄2 cup white vinegar
5 tablespoons sucanat or organic white sugar
1 medium onion, chopped
2 small hot chile peppers, stem + seeds removed, chopped
1 clove garlic
Instructions:
Combine cloves, bay leaf, cinnamon, celery seeds, chile flakes, and allspice in a layer of cheesecloth and tie into a little bundle.
In a large saucepan, combine the tomatoes, sea salt, vinegar, sucanat, onion, spice bundle, and the chopped hot chili peppers. Using a garlic press, squeeze the garlic into the saucepan.
Cook over medium heat, 35-45 minutes, until tomatoes have broken up and onions are very soft.
Puree mixture in a blender. Using a mesh strainer set over another saucepan, press mixture through strainer. Cook over medium heat, until thickened, about 20 minutes. Taste for seasoning. You may want to add a bit more sugar or salt ( I added a bit more salt).
Let cool completely. Transfer to a glass jar and refrigerate (for up to 3 weeks).
Make lots and share with your friends.
Susan Salzman writes The Urban Baker blog to explore her dedication to good food in the hope of adding beauty to the lives of her family and friends.