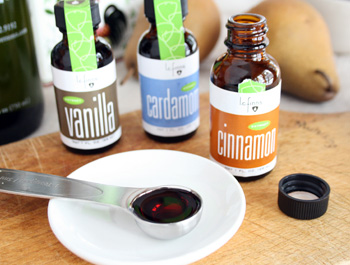 Some say it makes no difference what kind of vanilla is used in cookies, cakes, quick breads and custards. Some home bakers are sure artificial vanilla flavoring works just fine for giving the best flavor to their baked goods. Others would argue that you shouldn't waste your time baking if you use artificial flavoring. Only the real deal, pure vanilla extract, will work for giving the best flavor to desserts.
I'm a member of the pure vanilla extract club. I would never use an imposter in the custard for our family's special banana cake, layers upon layers of homemade vanilla custard, sliced bananas and vanilla wafers covered with a thick blanket of real whipped cream. My special pound cake would have something missing if it was made with artificial vanilla. Pure vanilla extract costs a bit more than its artificial look-alike, but to me, it's worth every penny.
Chad Gillard and Lee Zwiefelhofer favor the real deal, too. The two Twin Cities guys were discussing the absence of locally-made vanilla extract – extracts of any kind, really, as they downed some Finnegans together. They decided they'd make it themselves. In 2010 they started a company called l.c. finn's Extracts, l. for Lee, c. for Chad and finns for those Finnegans that were downed as the business ideas developed. A few months ago, they launched their first three extracts: vanilla, cinnamon and cardamom.