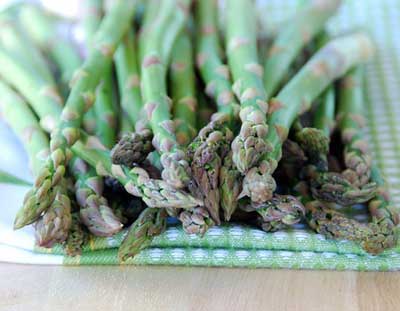 It's May 12th, and asparagus season is nearly over here in Southern California. While the majority of the country enjoys asparagus from April to June, our season usually stretches from late February to early May.
I'm not sad though -- this season's asparagus has been superb. The smooth, svelte green stalks with delicate purple tinged tips have had a mildly earthy flavor and deliciously tender texture. Since I've been buying two bunches of asparagus nearly every week for the last two months, I've learned a few things, So here are some tips on how to select, store, and cook with asparagus.
How to select asparagus: What's better, thin or thick stalks of asparagus?
Both. No, that's not a typo. Every spring there is an endless debate over which is better, thin or thick stalks. Most people swear thick asparagus stalks are tough. I disagree. I have eaten many tender and flavorful thick stalks of asparagus. What' really important is the quality of the stalk: look for straight, firm green stalks with light purple tinged tips. Look at the bottoms of the stalks. If they're white, dry, and woody, then they're probably old. Also avoid shriveled, overly dry, or pitted stalks.
How do you store asparagus? Here are three ways:
1. Trim the bottoms of the stalks and stand them upright in an inch or two of cold water in the refrigerator; loosely cover the stalks with a plastic bag. Asparagus should last 3-4 days, unless it's fresh from the farmers' market, in which case, it could last up to 6 days.
2. Wrap the bunch of asparagus with a damp paper towel and place in the vegetable bin for 3-4 days.
3. Par-boil the stalks for 1 1/2-2 minutes, then plunge in a bowl of ice water for 2-3 minutes. Drain, pat dry, and store in an air-tight container in the refrigerator for up to 5 days.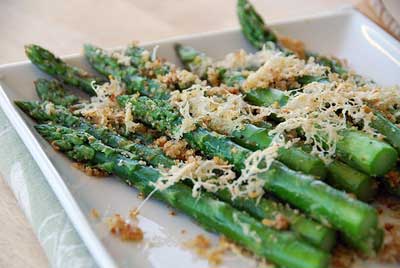 How do you trim asparagus?
Does the famous snapping of the stalk work? Yeah, it does. Hold the asparagus stalk with two hands and bend it. You'll feel a natural pull toward the bottom third of the stalk, where it feel like it wants to snap. Give it a quick snap, and the bottom will pop right off. If the stalks are really tender, this part isn't even necessary. Alternatively, you can use a vegetable peeler and shave off the thick, woody parts on the bottom.
How do you cook asparagus?
Very lightly. Nothing ruins asparagus more than overcooking it. You can boil, steam, roast, bake, grill, saute, or nuke it. You decide. Just keep it al dente, so it still has some crispness when you bite into it.
What are the health benefits of eating asparagus?
Asparagus is rich in vitamins A, C, and K as well as folate and dietary fiber. It's also low in calories and is a natural diuretic.
What can you do with asparagus?
A lot. In addition to making a great side dish to meats and seafood, try asparagus in soups, salads, egg dishes, pastas, risottos, and stir-fries. For an elegant yet easy appetizer, wrap asparagus with prosciutto; drizzle with extra virgin olive oil and broil for 1-2 minutes; serve on rounds of toasted Italian bread. Asparagus is delicious on sandwiches and makes a unique pizza topping, especially when paired with caramelized onions, sauteed mushrooms, and smoky Gouda cheese.
Here are two of my favorite ways to eat asparagus. Both recipes are deliciously easy to make and simply delicious. They pair well with everything from chicken and pork to seafood and tofu.

Citrus Spiked Asparagus
Serves 4-6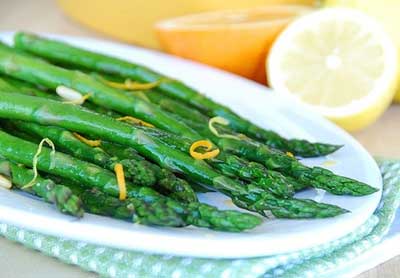 1 teaspoon lemon juice, preferably Meyer lemon
1/4 cup orange juice
2 teaspoons honey
1/4 teaspoon orange zest
1/4 teaspoon lemon zest
salt and 7-8 cranks of freshly ground black pepper
1 tablespoon olive oil
2 bunches asparagus (about 40 stalks), trimmed
1 tablespoon toasted pine nuts, optional
orange and lemon zest curls for garnish
In a small bowl whisk all ingredients from lemon juice through black pepper. Set aside.
In a large skillet over medium-high heat, warm 1 tablespoon olive oil. Add asparagus stalks. Saute for 5 minutes, or until just tender. Alternatively, bring a large pot of water to a boil. Add asparagus stalks, and boil for 2 minutes. Drain and set aside.
Pour juice mixture over cooked asparagus, and cook until just heated through. Place asparagus on a serving platter, and drizzle with remaining juice. Sprinkle with toasted pine nuts, if using, and garnish with orange and lemon zest curls.
Roasted Asparagus with Bread Crumbs and Parmesan
Serves 4-6
2 bunches (about 40 stalks), trimmed
2 teaspoons extra virgin olive oil
salt, to taste
7-8 cranks of freshly ground black pepper
3 tablespoons plain bread crumbs
1/4 cup grated Parmesan cheese
Preheat oven to 400 degrees F. Line a large baking sheet with aluminum foil.
Lay asparagus stalks in a straight line across the middle of the sheet. Drizzle with olive oil, season with salt and pepper, and using your hands, gently turn the asparagus until well coated. Roast for 12-15 minutes, or until just tender. Top with bread crumbs and cheese; cook 1-2 minutes, or until just golden brown. Serve immediately.