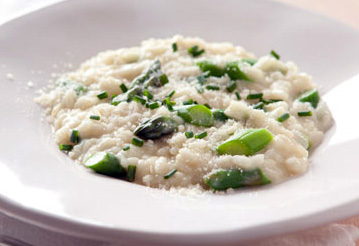 One day it's pouring rain and the next it's sunny and bright. Trees are already blooming with cherry blossoms, the delicate pink petals sometimes getting washed away in a sudden downpour. The hills all around the Bay Area are green and lush. And in the store you can find fresh strawberries, artichokes and asparagus.
I think one of the reasons I love the Spring so much is the tender delicious fruits and vegetables. After eating hardy root vegetables and cabbage, chard, potatoes and leeks, the vegetables of Spring are a welcome change of pace. They are a wonderful reminder of new life and fresh beginnings.
Asparagus is available much of the year but in the Spring it is at it's best. My favorite way to serve asparagus is in risotto. I make a broth from the stems and add the tips and the tender stems to the rice at the last moment so it stays tender-crisp. While Winter vegetables are wonderful cooked in soup or mashed somehow Spring vegetables seem too delicate to manhandle in that way.