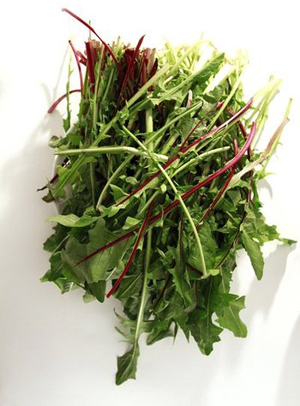 From the LA Times
"But they're weeds."
My much better half is not, shall we say, "adventurous" when it comes to greens: A "real" salad is built around a wedge of iceberg or chopped romaine. Stewed collards are fine for New Year's Eve, and sautéed spinach can make an occasional appearance at the dinner table. But that's where the love ends. Forget arugula and radicchio, and don't even think about frisee.
So when I pitched dandelion greens for dinner the other night, well, you can probably understand the breathless shock.
Dandelions are an assertive green, just ask any gardener who's had to battle them on the front lawn or in cracks on the driveway. Unwanted, any greens are "weeds."
But have you ever bitten into a dandelion leaf? The flavor is tangy, even borderline bitter, with a definite texture. It's an assertiveness that can work wonders in the kitchen, provided you know how to handle it and pair the greens with complementary flavors.