From the LA Times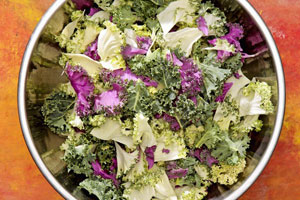 Kale is about as unlikely a food star as you can imagine. It's tough and fibrous. Bite a piece of raw kale and you'll practically end up with splinters between your teeth. Nevertheless, kale has become a green of the moment because, given a little special care, it actually can be made not only edible but delicious.
You can cook it, of course, the lower and slower the better. But surprisingly, one of the most popular ways to use kale these days is in salads. Though kale leaves have always been found on almost every salad bar, it wasn't for reasons of edibility — it was for decoration, because this was one green so tough it would last forever without wilting.
But the solution is remarkably simple: Give it a massage. Yes, seriously. And I mean a real massage — a deep-tissue bone-breaker. Grab bunches of it in both hands and squeeze. Then rub them together. And repeat. It's almost like kneading bread dough.
It won't take very long — just a couple of minutes — but you'll be amazed at the difference. That tough cellulose structure breaks down — wilts, actually — and those leaves that once seemed so coarse and fibrous turn silky.