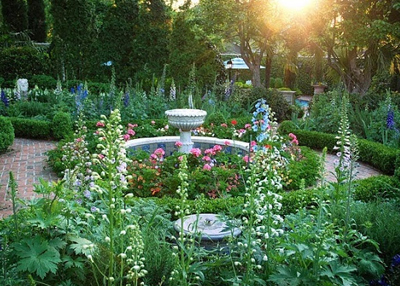 Elegant…purely elegant is the word that comes to mind when I think of foxgloves and delphiniums. Very similar in appearance and growth habit, these two garden goodies are excellent additions the spring tableau and fantastic in arrangements.
Digitalis purpurea is the Latin name for foxgloves. The genus Digitalis gathers its name from the ease of which one's fingers, or digits, can be capped by the floral bells cascading down their stalks. In literary lore, a fox could slip its paws into the bells and use them as gloves - thus the common name. I bet Beatrix Potter had something to do with that. Pinks, creams, lavenders, lilacs, yellows, peaches, and speckled mixes of them all abound in the foxglove color range.
As for other uses besides gorgeous garden elements, the Digitalis genus is used in cardiology to create several types of heart medicine and even some neurological medicines. Quite amazing considering the whole plant, roots, leaves, seeds, and stems are toxic! The pharmaceutical positives are extracted from the leaves…somewhat akin to using snake venom for medicine or a flu vaccination. Don't worry about the toxicity…just don't eat them!