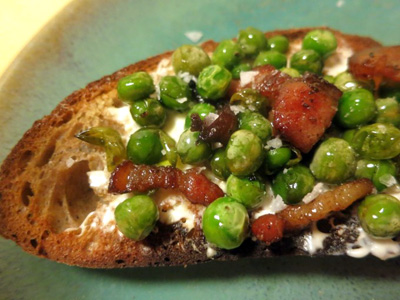 It was one of those days. I had run all over town doing errands when suddenly it was 5 o'clock and I remembered that the fridge was uncharacteristically empty. I got home, ran up the stairs, ran into the kitchen slightly panicked (the Mom must be fed) and saw that the Farmers Market Fairy had come. Really. That's what Linda calls herself. And in that moment I could have kissed her.
For years I had to be in the studio at KCRW every Wednesday morning for interviews so that meant I missed the Santa Monica market every week. Until Linda came into my life and started shopping for me. Now she's my biggest luxury. Sitting on my counter were fresh strawberries, kumquats, spigariello, spinach, green garlic, CHERRIES!, Roan Mills bread and peas. Shelled peas, no less.
I had some of my favorite pepper bacon in the freezer so my mind did this. "I can make a pea sauté with bacon, toast some bread, rub it with garlic and slather it with some lemon quark I have and top it with the pea sauté."
Quark is a fresh cream cheese, that's lighter and smoother than the cream cheese you know. I buy it from Spring Hill Jersey Cheese from Petaluma. They sell at the Santa Monica and Pico-Cloverfield markets. You can substitute a creamy goat cheese or any luscious cheese that will help the peas stick to the toast.
Once I started cooking I noticed the peas were a little starchy so I added a bit of sugar to the really hot pan so it caramelized then I scraped it into the peas. Oh, and they look the way they do because I sauté peas instead of steaming or boiling them. It's so fun to watch them pop. Simple, fast and so good.
Peas Sauté with Bacon on Toast
Ingredients:
1 strip bacon cut into thinish pieces
1 tbls extra virgin olive oil
1 cup fresh peas
1 slice sturdy rustic bread
1 clove garlic for rubbing on toasted bread
soft cheese for slathering
Salt and Freshly Ground Black Pepper to taste
Instructions:
Add bacon and oil to hot pan.
Cook bacon until the fat is rendered and it's nearly crisp. Add peas.
Toss peas with the bacon in the rendered bacon fat. As the peas cook, taste one. If it's not very sweet add a tablespoon of sugar to the fat in the pan and let it toast a bit to caramelize. Then stir the peas and bacon around to collect the caramelized sugar. Taste and repeat if necessary.
As the peas are cooking slice a piece of bread and toast it in the toaster.
When the toast pops up rub the slice with garlic so give it some good flavor.
Slather the garlicky toast with a bit of cheese you have. Use goat cheese, quark, lemon quark or whatever you like.
Put the toasted, garlicked, cheesed slice of bread on a plate and spoon the peas and bacon over. Salt and pepper to taste if necessary.
Evan is an active speaker on culinary subjects as well as issues of food culture and sustainability and, just to keep a balance, she has a very public love affair with Pie. She's been called the Jerry Garcia of cooking with the freewheeling improvisation she brings to the kitchen. You can follow her exploits on her blog at http://www.evankleiman.com/