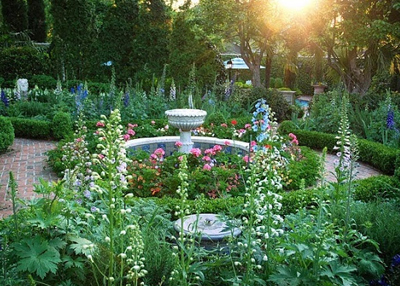 Elegant…purely elegant is the word that comes to mind when I think of foxgloves and delphiniums. Very similar in appearance and growth habit, these two garden goodies are excellent additions the spring tableau and fantastic in arrangements.
Digitalis purpurea is the Latin name for foxgloves. The genus Digitalis gathers its name from the ease of which one's fingers, or digits, can be capped by the floral bells cascading down their stalks. In literary lore, a fox could slip its paws into the bells and use them as gloves - thus the common name. I bet Beatrix Potter had something to do with that. Pinks, creams, lavenders, lilacs, yellows, peaches, and speckled mixes of them all abound in the foxglove color range.
As for other uses besides gorgeous garden elements, the Digitalis genus is used in cardiology to create several types of heart medicine and even some neurological medicines. Quite amazing considering the whole plant, roots, leaves, seeds, and stems are toxic! The pharmaceutical positives are extracted from the leaves…somewhat akin to using snake venom for medicine or a flu vaccination. Don't worry about the toxicity…just don't eat them!
Delphiniums, the genus Delphinium, have hundreds of species in multitudes of color. Palmate shaped leaves, these plants will display flowers in color ranges from pink to lilac to blue to indigo to amethyst. Simply stunning arrays of color choices, including bicolor varieties and pure white are available as well. Delphiniums gather their name from the Latin term for dolphin, alluding to the shape of the opening flower. These plants too are quite toxic, so don't eat them, lovely as they are. This toxicity only becomes a hazard to cattle farmers whose cattle may ingest the many native species that stretch across the country and even boasting natives in Deep South, Delphinium alabmica and Delphinium carolinianum, respectively.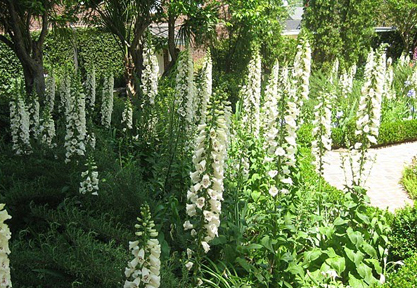 I rely on delphiniums and larkspur (as they are often referred to) for beautiful accents and mainstays in my floral creations. There are literally hundreds of hues even running to a depth of aubergine that is almost black. Hollow stemmed as well, these cut stems can last for a solid week in an arrangement and fair quite well in bouquets. Between foxgloves and delphiniums, the delphs are more readily available, yet each is quite stunning in an arrangement. I love to accent other colors with the cobalt blue delphs…that depth of color just sets off other colors terrifically.
Here in the Deep South, we have to treat these two as annuals, sometimes squeezing the biannual nature out of the foxgloves in zone 7. Though, here in zones 8 and 9, I have had tremendous success with these stalks of bells and florets in my garden and those of my clients. A couple tricks of the trade for garden triumph with these are…
Plant foxglove plants in the fall and again in the spring. The fall ones will be totally vegetative, meaning all leaves, and they will overwinter well, bolting and blooming in April and early May. In late winter, plant some more foxglove plants to ensure a hearty crop of blossoms and a succession of blooms. I love varieties such as 'Pam's Choice,' 'Alba,' 'Carousel,' 'Foxy,' and 'Apricot.' Once they've bolted and are in flower, they'll need some staking…bamboo sticks and raffia are just perfect!
As for delphiniums, same goes as with foxgloves. Plant some plants in fall and again in spring. My spring plantings (early March for zones 8 and 9, later March for zone 7) fair better than my fall plantings if we've had a tough winter. But here's part of the fun with delphs…sow seeds of larkspurs in fall and spring for a profusion of springtime into summer blooms! Good Friday is my benchmark day to sow seeds here in the Deep South. These too will need some staking.
I hope that foxgloves and delphiniums find a home in your garden. Enjoy them in the garden and bring them in as bouquets of beauty for days. Happy gardening!
James T. Farmer III was born and raised in Georgia, where he continues to live and work as a landscape designer. He shares his love of food, flowers and photography on his blog All Things Farmer.