"Just a little sheep dip. Panacea for all stomach ailments." Mae West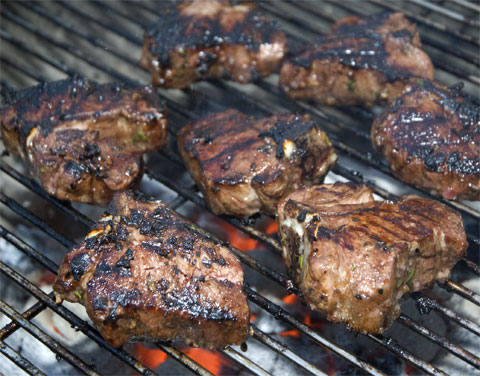 If you say you don't like lamb, you probably really mean you don't like the preparation of lamb you were served. If you have never savored the rich, tender, beefy (never gamey) flavor of a lamb loin chop, you are missing what I consider to be the best nugget of red meat in the world. Period. Really. No cow.
Loin chops are the porterhouse steaks of the lamb, with a T-bone separating the strip steak on one side and the filet mignon on the other. But they are a lot smaller than beef porterhouses. The best, cut 1.5 to 2" thick, are no bigger than a child's fist.
Lamb is a traditional spring dish, and this recipe uses an extremely quick and easy marinade and cooking technique. The marinade, I call it my Sheep Dip, is great on all cuts of lamb including rack, leg, and kabobs. If you don't think you like lamb, try this and you may swear off beef for life. The output is amazingly flavorful and tender and juicy and succulent and...