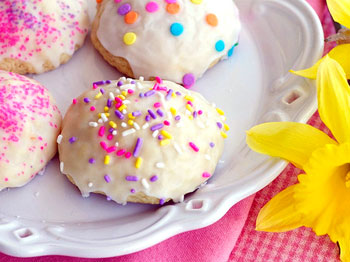 My mother was a 30-year-old new mom when she made her first batch of Italian lemon egg biscuits. She wrapped a few in cellophane and gave them to my older brother to give to his kindergarten teacher. The story goes that the teacher called up my mom begging for the recipe, claiming they were the best cookies she had ever tasted.

Since that day, my mom has baked thousands of lemon egg biscuits. Infused with lemon extract and coated with a sweet, crunchy lemon icing, these cookies are light, cakey and refreshingly citrusy. They're a perennial favorite in her Christmas cookie trays; they appear at every family birthday party; and they grace the dessert table every Easter Sunday.

The kids in our family have always adored lemon egg biscuits. I grew up making them with my mom, and now she is passing on the tradition to her granddaughters. The dough is soft, springy, and easy to roll, making it ideal for children's little hands. The best part is icing and decorating the cookies. Kids love to watch the confectioners' sugar and milk transform into a smooth, creamy white, sweet icing as they stir and stir. Of course, nothing pleases them more than dipping the cookies in the icing and decorating them with loads of colored candy sprinkles.