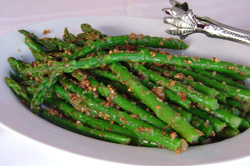 1 pound fresh asparagus spears
4 tablespoons butter
1 shallot, minced
1/4 teaspoon salt
1/4 teaspoon freshly ground black pepper
1/4 to 1/2 cup hazelnut crumble*
Snap ends from asparagus and put spears into a 9- x 13-inch glass baking dish of cold water. Agitate a little to loosen sand and dirt, then drain, rinse and repeat.
Bring a large deep skillet of water to a boil. Add asparagus spears, reduce heat and cook at a high simmer for 3 minutes. check for tenderness and continue to cook for 1 or 2 more minutes. Remove spears from water and immediately plunge them into a bowl/pan of ice water to stop the cooking.
When cool, drain well and lay on paper towels.
Heat the butter in a large saute pan. Add the shallots and saute until softened. Add the asparagus spears and shake the pan until the spears are coated with butter and are heated through. Add salt, pepper and hazelnut crumble. Continue to saute for a few more minutes. Serve at once. Serves 4.


*Hazelnut Crumble
1/2 cup fine fresh bread crumbs
1/3 cup hazelnuts
Toast hazelnuts by placing them on a baking sheet. Bake in a 350-degree oven for about 10 minutes. Immediately transfer the nuts to a clean kitchen towel. Roll the hot hazelnuts up in the towel and rub gently to remove the skins. It's okay if not every bit of dark brown skin comes off. Allow the nuts to cool.
When the nuts are cool, grind them or chop them very fine. Mix them with the fresh bread crumbs. This crumble can be stored in a zip-top bag or glass jar in the freezer for a couple of months.
-Recipe courtesy of Sue Doeden