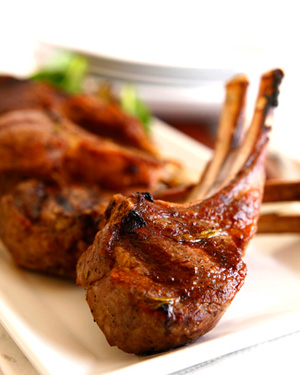 We always eat lamb at our house for Easter. As a child we ate lamb twice on Easter, breakfast and dinner. Walking or rather hiking through snow for half a mile to our camp on the lake for our breakfast lamb feast. Yes, it took a while as we helped our father navigate with foot braces on both legs. It was my father's happiest place on Earth, so he pushed himself to walk that long half-mile. My mother was happy to put together a 'lovely' breakfast in the middle of nowhere. In recycled grocery bags, we each 'carried in' marinated 2 inch thick chops, 2 per person, cherry tomatoes seasoned with garlic and oregano - ready for a quick skillet sauté and the cutest 'breakfast' size baking potatoes. The paper grocery bags had a duel purpose, they created a fire long enough to char 2 marshmallows each before they flamed out.
The first thing once the door was unlocked at camp was to take the fuse breaker out of its hiding place and electrify the place. My sister and I ran from room to room turning on heaters to high while my mother turned on one of the ovens to bake the little potatoes as my dad set the long harvest table he constructed. My sister and I played outside on the ice-covered lake and slid on beer trays down the hill as the scent of garlic and oregano grew stronger. We knew when breakfast was close as the smell of garlic went from sharp and pungent to mellow and sweet. We were always hungry - we ate non-stop because we played non-stop.
Times change and weather has changed more. We no longer hike in, we drive in because we live at the "camp on the lake" year round and that would make our father very happy. Traditional Greek Roasted leg of lamb cooked past pinkness in the oven has been replaced by grilled butterflied leg of local lamb cooked medium, or as they use to say: pink. The sides have evolved, too. Scalloped potatoes have morphed into potatoes dauphinoise, the expected asparagus is no longer boiled now it's respectfully roasted with olive oil infused with lemon peel.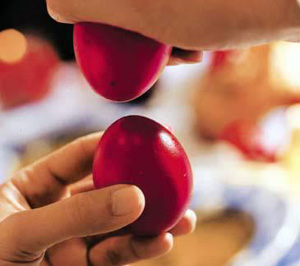 There are many more vegetables served with the Easter lamb. Salads and mezza made with rehydrated dried beans, spinach pie - our menu is more healthy with much more variety. We still dye eggs red and hope that you get a super egg that withstands being cracked by your fellow dinner guest so your year is filled with good luck. This tradition is the only thing about Easter that hasn't changed at all, everything else has evolved.
There is rarely ice covering the lake and the last few years we have eaten Easter on my deck outside under budding oak trees in 80 degree weather which is rather hot for April in Maine.
I bone out a local leg of lamb myself partly because I'm fussy about how it's trimmed. I take the time to remove all the sinew and fat so it doesn't flare-up on the grill later. All the saved trimmings, along with the bones go into a stock for a Zinfandel sauce. The butterflied chunks of lamb are placed in plastic bags and covered with the best marinade for lamb in the world from the first Silver Palate cookbook. I let it marinate the lamb for 2 solid days.
EASTER LAMB
1 cup Zinfandel wine
3/4 cup soy sauce
4 large garlic cloves
1/2 cup chopped mint
2 tbsp. bruised fresh rosemary
1 tbsp. ground pepper
1 butterflied leg of lamb, 4-5 pounds
Another side that I always make for Easter is a leek timbale, from Diane Rossen Worthington's The Cuisine of California. It tastes fresh and delicate like a spring day and is compliments grilled lamb perfectly!
1 cup chicken stock
3 medium leeks, cleaned and finely chopped
4 eggs
1 1/2 cups half and half
1/2 grated gruyere cheese
a pinch of grated nutmeg
salt and pepper
Cook leeks in chicken stock until tender. Drain and cool. Preheat an oven to 350 degrees. In a bowl beat eggs with half and half, cheese and seasonings. Stir in the drained leeks.
Butter ramekins and pour leek mixture almost to the rim. Place them in a shallow pan filled with hot water. Bake for 20 to 25 minutes or until puffed. Carefully remove from the oven and invert and unmold. I serve it lukewarm with the grilled lamb.
Brenda Athanus runs a small gourmet food shop in Belgrade Lakes, Maine with her sister Tanya called the Green Spot.
The Green Spot
This email address is being protected from spambots. You need JavaScript enabled to view it.
207.441.9327