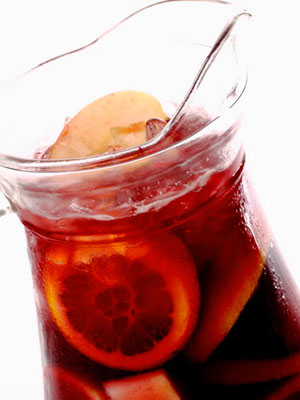 I generally don't care for Sangria, except for when I'm in Spain - it just seems to taste better there. Sangria makes a perfect summer drink when entertaining, because you can make large batches ahead of time.
This recipe is based on one I received during my stay at Le Meridien Barcelona from the General Manager, Gonzalo Duarte Silva. They served his sangria during a wonderful cooking event which I attended at the hotel called "Paella Atelier" where their chef Eugeni Cortés demonstrated how to prepare a traditional paella.
The recipe is very similarm but I've added a few "enhancements". Be sure to choose an inexpensive Spanish Rioja, I like to use Campo Viejo Rioja Crianza, but a fruity Merlot will work as well.
Be sure to allow time for the flavors to blend, it really does get better as it sits.