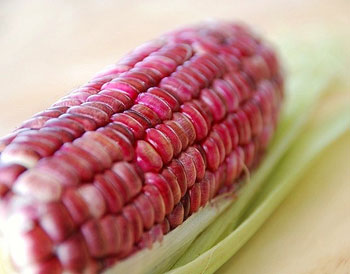 Notice anything unusual about this corn? No, it's not some nifty Photo-Shop-Curves technique. It's real red you're seeing. That's no ordinary ear of corn. That's an ear of edible red corn.
In the U.S. we typically refer to colored corn as "Indian corn" since Native Americans were the first people to grow corn in the New World. When European colonists came to the New World, they referred to corn of all colors as "Indian corn" to differentiate it from other grains such as wheat and rice. Over time, white, yellow, and bi-color corn replaced colored corn in people's diet, and colored corn became ornamental.
So what makes red corn red? Like red pomegranates and purple grapes, red corn derives its color from anthocyanins, or health-promoting antioxidants. This means that it's both more visually appealing and healthier than traditional corn.
As for texture and taste, red corn has slightly crunchier kernels and an earthier flavor. That's why in this recipe for Red Corn with Cilantro and Cotija Anejo Cheese, I added a touch of sugar. Acidic lime, salty Mexican cheese, and savory cilantro add complexity without masking the corn's unique flavor.