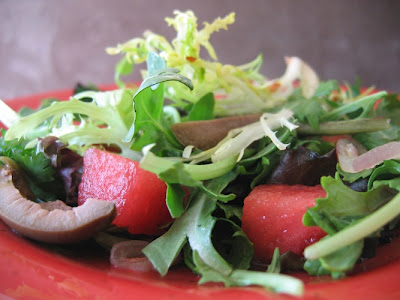 FoodBlogga Etiquette Tip #43: At dinner, never discuss politics, religion, or the issue of fruit on salad.
I was at dinner with friends recently where they served a delightful mesclun salad with fresh strawberries and parmesan cheese. Well, I thought it was delightful; my dinner companions disagreed.
As we were discussing benign topics such as the recent weather, I pointed out to one of my friends that she hadn't eaten any of her strawberries. "Don't you like strawberries?" I asked her. "Oh yes, I love strawberries," she replied, "but not on salad."
What was it she didn't like? Were the berries too sweet? Was it the mixing of vinegar and fruit? Her response: "I just don't like fruit on salad."
This sparked a surprisingly intense discussion. I can understand how some people hate cilantro because it tastes like soap to them, but strawberries or apple slices? One friend called diced melon on salad "just wrong," while another declared, "strawberries belong on cereal not on salad."