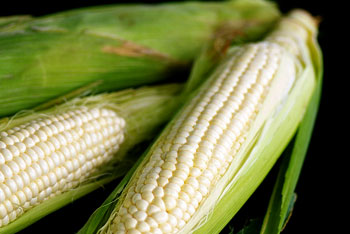 Where would I be without California farmers? If it weren't for them, I would never have discovered the sticky, caramel bliss of Medjool dates, the tropical pina colada flavors of cherimoya, or the simple joy of munching on raw summer sweet corn. Yes, raw corn.

At first, I was skeptical. Having grown up in New England, I was accustomed to bright yellow, fat kerneled ears of corn steamed to perfection and doused with melted butter and salt. But the LA farmer insisted I taste the raw corn he was offering: raw, white, small kerneled corn. How could such puny corn possibly be good without butter and salt?

Still, I held out my palm while he filled it with a scoop of raw corn kernels. With one swift swoop of the arm, I popped the entire handful in my mouth. It was crunchy, as in snap! crackle! pop! crunchy and surprisingly juicy. As for the flavor, well, it was natural. Just unadorned, mildly sweet, old-fashioned corn flavor. I was hooked.