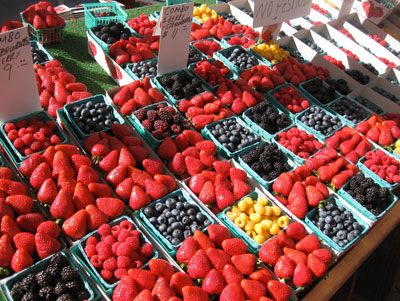 My favorite cold weather desserts need to be sweet and full of flavor. When it's cold and rainy outside, nothing is better than a slice of flourless chocolate cake with a scoop of vanilla ice cream or a bowl of hot apple cobbler and a spoonful of heavy cream. Rich and sweet or hot and sweet, yumm.
In summer, heaviness is out of place. My preferred dessert is beautifully ripe fruit from our local farmers' market: a bowl of ripe berries, a slice of ice cold watermelon or cantaloupe, a ripe pluot, peach, or nectarine.
When I want a more elaborate dessert, I supplement fresh fruit with custard.
Custard is easy to make, requiring only grade-school math: 2 (eggs) + 1 (cup cream) + 1/2 (cup sugar). Poured in a buttered pan, baked in a water bath. In and out of a 350 degree oven in an hour. Simple, easy, and delicious.
Then I had a thought.