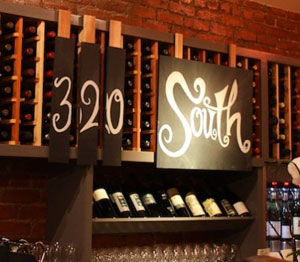 Flouncing along La Brea Avenue one windy day looking for a great cup of coffee which, by the way, is rather difficult to find in Los Angeles, I happened upon a rather stark building. Being the warrior that I am, I knocked on the door and asked a young lady there if they served coffee and was it any good? She told me that they only made french press café. How pleased I was to hear this.
It was rather late in the afternoon and I enjoyed my cup in this quite provocative wine lounge. As I was about to go on my merry way, I noticed a young man sitting in a deep, red velvet chair sipping on a glass of wine. It was 3.30pm and knowing the habits of people who love their wine no matter what time of day or night, I decided I must return…a quick glance at their menu also helped me to make that decision.
I did return for the best coffee in town a few days later and chatted with the owner, Edgar Poureshagh, a very interesting and educated person. He was, in fact, the young man I had seen sipping wine. We spoke of many things – food, wine and the Assyrian empire and after telling him I wrote restaurant pieces, I decided this would be a grand place to write about.
A couple of nights later, I dined there with my nephew whom I have taught to enjoy good food although ofttimes we eat at my home as I love to cook and prefer the quality of fresh organic foods that I buy to what many restaurants serve nowadays.
320 South is an intimate dining space with granite walls that coexist with the bare bricks of the original building. Teak tables and beige leather chairs are grouped not too near together under pyramid shaped crystal balls hanging from the ceiling and lighting the dining scene. Flat silverware is wrapped in black napkins and share the table space with proper, wine-tasting glasses. Nothing else…nada!!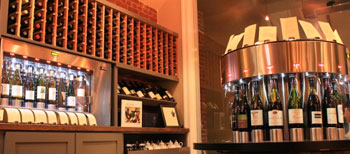 Being a Sommelier, Edgar has chosen many interesting and fine wines, reds, whites and rose from across the world. These are artfully displayed on racks behind the bar. All of the wines are from family-owned wineries and are facilitated by the Enomatic machines which are handmade in Italy, and use Argon gas to preserve the wines. The wines are poured in 50ml increments, which equates to about 1.75 ounces.
These wines have justly added to the reputation of 320South bringing wine connoisseurs from far and wide to enjoy the meritorious wines Edgar chooses so meticulously for his patrons. It is great to see young men and women walking around trying different selections in order to educate their palates.
All produce they use is locally sourced and some brought fresh from the Santa Monica market, chosen most carefully. The chef, Nicole Ball, really knows her stuff, has a long background in food preparation and prepares a small but choice filled menu. Edgar not only prefers using local produce but insists on the best quality as he and his family eat there too. He is also a certified Sommelier and his knowledge of wine is incredible.
THE MENU
This has been cleverly designed into cheese, from the ground and small plates. Each section has various choices making it easy to select the dishes that most catch your fancy and titillate your taste buds.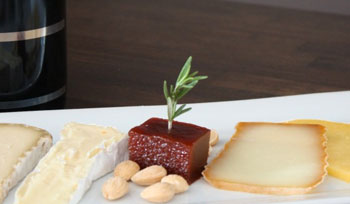 CHEESE
A delicious composite of four selections with a dab of spicy quince jam and walnuts sided by a warm walnut raisin bread roll
Cow's milk Cheddar from California
Humboldt Fog goat cheese fermented in vegetal ash
Triple cream Brie from France
Tombe de Savoir, an aged sheep milk cheese from France
Creamy white Italian Burrata with a pungent olive tapenade and garlic confit is definitely a must to order.
FROM THE GROUND
Sliced baby beets, orange and dark red in a fragrant olive oil vinaigrette with roquefort cheese, candied pecans and fresh arugula leaves.
A tasty mix of spicy arugula and treviso radicchio topped with shaved parmesan and pine nuts.
Baby gem lettuce plated with avocado, cucumber slices and a buttermilk dressing.
Creamy Butternut squash soup with a dollop of crème fraiche
SMALL PLATES
An intricate white bean and mushroom bruschetta with crispy bacon.
Softly braised lamb atop a delicate goat cheese poutine. French fries covered in curd cheese with fresh green arugula...a delightful dish.
Three Pots dish of crispy chickpeas with rosemary, a colorful melange of warm herbed olives, gruyere infused crackers.
Bowl of steamed mussels in an aromatic garlic and ale soup served with slices of pungent dark rye bread.
Sizzling skillet steak with Roquefort butter.
The wines served with the above were a lovely Spanish sparkling Cava with a touch of Chardonnay grape; a slightly frizzante Italian Prosecco; Pinot Noir from Burgundy and a Muller Thurgau from Alto Adige near the Italian border.
Each dish was served by knowledgeable waiters was a delightful mix of many tastes and textures blended together by Chef Nicole's masterful knowledge of food pairing expertise. The freshness of the produce came pleasantly zinging through and there was no need to hide anything with rich complicated sauces.
320 South Wine Lounge is located at 320 S. La Brea between 3rd and 4th street. There is lots of street parking and valet as well.