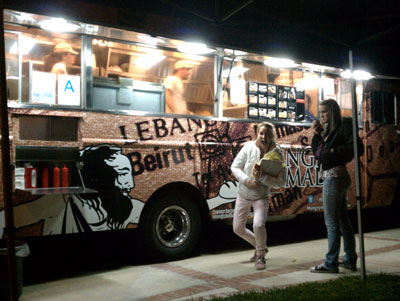 Three weeks into all night shoots in Chatsworth on a low-budget indie movie with the same caterer twice a day serving us burgers for "breakfast" every single day (not even I can eat a burger every day, 4 times a week is my limit) and the least I can say is crew morale was low. Hence my excitement that the upcoming Thursday we would go a few hours early (and by early I mean late but time gets completely backwards on a night shoot), and we needed to bring in a second meal, not only to avoid paying meal penalties but, more importantly, to keep everybody happy.
I took off to scour the Internet and find the best possible food truck to grace our set, and one willing to visit us at 4 in the morning. My best friend texted me a list of his favorites and one name stuck out: The Hungry Nomad. We had become sort-of nomads ourselves, living in motorhomes and camera trucks and pop-up tents as we set up in various locations to shoot a high-school-age-rom-com all over Chatsworth. And the name promised Middle Eastern food, or, as I soon learned, Middle Eastern Fusion, my new favorite genre.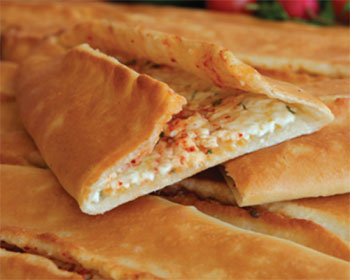 To say we were nomads is an over statement, the true nomad collects and perfects culture as he goes. David Yeretsian of the Sasoun Bakeries, utterly delicious Armenian bakeries sprinkled around Los Angeles, came to LA from Sasoun (historic Armenia) via Turkey, Syria and Lebanon. Every time he had to start anew he opened a bakery. In Lebanon he developed a new style of flatbread endearingly titled The Torpedo, as it is shaped like the much seen torpedoes in Lebanon at the time. The morning bustle in the Los Angeles bakery gives off the air of a standard Armenian bakery, but the food stands out with its own twists.
Yeretsian's daughter, Tina, met her fiancé while she was working in the bakery. He was a regular customer. And together they developed the idea of the food truck, a spin off of her father's already eclectic style of flatbreads but with an even more modern twist packaged in a brown truck adorned with a road map of the desert.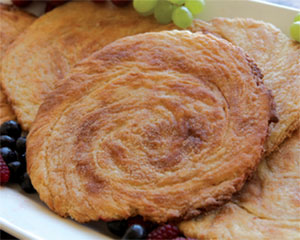 I wasn't expecting a Chicken Pesto Sandwich, but it was one of the best I've ever had. Her hummus is prepared the way she likes it, with very little oil so it feels lighter and is extremely fresh. They serve an amazing Fattoush salad. I have always wondered why cucumbers taste best in Middle Eastern salads and this was no exception. And they serve her father's famed invention, the Torpedo. The truck catered to everyone on set, heavier meats, cheese breads, and healthier salads and hummus.
Developed, packaged and delivered with love, the truck brought us everything we needed, nutrients to get us through the night, happiness to motivate us through the week, and tahini cookies.