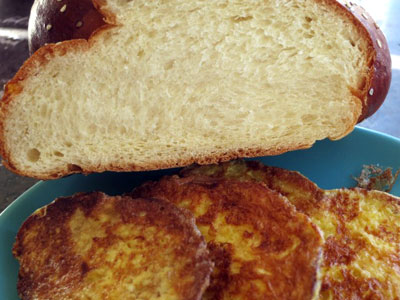 Bread. I love it, especially when it's well made. But I freely admit that I try to avoid it. I'm of a certain age and weight when the dangers of too much free carb styling can take a toll. But how hard is that to do now? It's really hard with all the neighborhood bakeries opening all over town. Yesterday I checked out Bread Lounge in DTLA. Tucked away on the southeast corner of 7th and Santa Fe the location is an indication of just how much DTLA is thriving.
I walked in on a Friday during late lunchtime and it was filled with people dining in and taking out. If you park in the back and walk through to the front the first display you see is packed with all manner of packaged sables, biscotti and other little nibbles.
The production area is on display to your right and there is bread everywhere from large boules and batards to skinny crusty baguettes and a good selection of whole grain and white sturdy sandwich breads. And of course there are the small coffee cakes and viennoiserie that we've come to expect.
But what you might not expect are the finely crafted Jewish and Middle Eastern breads and snacks offered by owner Ran Zimon who learned his craft in a series of Israeli bakeries. The following went into my bag: a muffin sized brioche "timbale" filled with nice thick vanilla bean cream, an apple "Danish", a croissant, a baquette, a braided challah, Jerusalem bagel and the hope that after tasting it all I wouldn't fall into a sugar coma.
Next time I'll eat in, choosing a sandwich from the large blackboard menu and going to the pretty trellised outdoor eating area next to the parking lot. And I'm definitely getting one of the famed ricotta danishes made with white chocolate. And a flaky feta-spinach boureka….I better stop now.
I used the challah for French toast. It has a lovely soft crumb, not as sturdy a texture as a Diamond Bakery loaf. The Jerusalem bagel is the best I've had in town. Lacquered with sesame seeds and cooked just to the right crustiness it's the perfect slightly sweet accompaniment to a breakfast plate of yogurt , olives and eggs or an afternoon cheese and salame snack.
BREAD LOUNGE: 700 S. Sante Fe Avenue, Los Angeles, CA 90021 / 213-327-0782 / Open 7 days
Evan Kleiman is an active speaker on culinary subjects as well as issues of food culture and sustainability and, just to keep a balance, she has a very public love affair with Pie. She's been called the Jerry Garcia of cooking with the freewheeling improvisation she brings to the kitchen. You can follow her exploits on her blog at http://www.evankleiman.com/