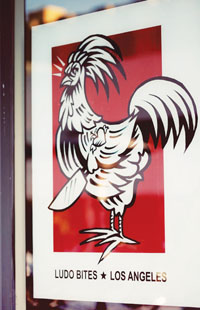 After watching Ludo Lefebvre on Top Chef Masters I knew I wanted try out his food. Around the same time his episode aired he opened up a "pop-up" restaurant at Bread Bar on 3rd St. On Tuesday night a bunch of my friends and I went. Simply put the meal was amazing. It's really a mixture of classical french food and molecular gastronomy. Onto the food.
The table that was supposed to be ours decided they wanted to sit and talk for a long time so we had to wait. To make up for this Ludo's very nice wife brought us out some lobster medallions with daikon & rosemary with a honey-sherry vinaigrette. It was amazing and great indication of things to come. It looked like a scallop and the sauce was very strong and sweet so the lobster was mainly there for texture.
One of the best things about the meal was the butter for the bread. It was a homemade honey and lavander butter.
First came the chorizo soup with cantaloupe and cornichon. It really tastes like the essence of chorizo. It was perfect. When there was only a little left we almost fought over it like junkyard dogs.
Next came a beautiful polenta with cantal cheese, oxtail and black truffle. This was probably the best polenta I've ever had.
One of the most beautiful dishes was the baked snails with herb butter & spinach in a curry yogurt. It was so good. It had a strange green color but tasted wonderful.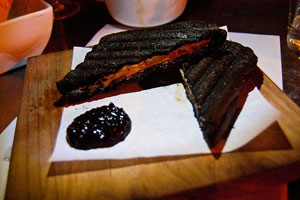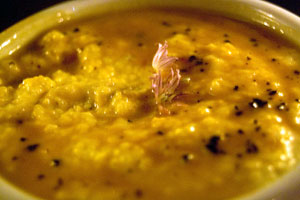 My second favorite dish was a foie gras croque-monsieur with ham and a cherry amaretto sauce. The bread was made with squid ink. This was the greatest ham & cheese/grilled cheese ever made. You could taste the egg from the bread and the foie gave it such an amazing richness.
Next was the grilled beef tenderloin with smoked eggplant, goat cheese, shallots and chive flowers. The meat was rare and nice and salty. It was very simple and tasty.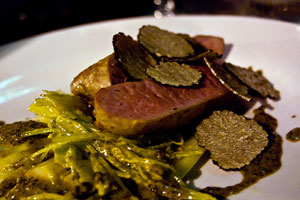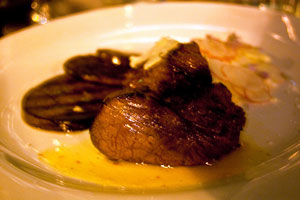 Our last main course was by far the best. It was grilled duck breast with shaved truffles and a leek salad. It was by far the best duck I've ever had. It was very rare and had so much juice in it. I can't even begin to describe it.
Finally we had a creme fraiche panna cotta with caviar on top and a caramel sauce around it. The panna cotta was purely a vessal for the caviar nd caramel. The combo of sweet and salty was magical and I wanted more.
Ludo himself came out and talked to our table for a long time which was great. He's a funny, nice guy. He was a very fiery frenchman but I wouldn't have it any other way. I loved Ludo Bites so much I decided I need to come back before I leave for Japan next week. It closes on the 22nd of August and everyone should try it before it closes.
Benjamin Chinn is a Los Angeles native who currently works as an editor at www.Causecast.org, a nonprofit that connects individuals with charities. You can visit his blog at www.benjaminchinn.com and follow him on twitter at www.twitter.com/benchinn.