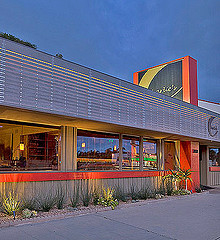 I'm always dragging my friend Laur with me to try out new restaurants. From casual gastropubs up the street like Laurel Tavern, to "modern (molecular) cooking" at The Bazaar across town. She's always up for a new dining adventure no matter where we go.
When she invited me to dinner at a new place in Malibu last month, I thought to myself, "Seriously, does anyone DRIVE to Malibu just for dinner?" I wondered if trying to get there during rush hour would be worth all the trouble.
If you live in Los Angeles, you understand the hell that is our freeway system, especially during the work week. Sometimes it can take hours to crawl across the 405 freeway, and even shortcuts are clogged with hungry diners trying to make that 7 or 8pm dinner reservation.
It wasn't just the thought of midweek traffic that bothered me: it was also the general consensus (I think) that Malibu proper is for locals only. I've lived in Studio City for fifteen years now, and I can remember driving to Malibu only once for an actual dinner. It was an intimate gathering at some restaurant (can't remember which one) for a friend's 40th birthday party.
Don't get me wrong, I LOVE the beach. I lived in Pacific Beach (San Diego) for ten years before marrying Peter, and totally embraced the casual lifestyle of a beach community. Over the years, Peter and I rented a beach house in Newport (near Balboa Island) several times, and invited our families for fun, group vacations. Luckily, we also have friends that own a beach house steps from Hollywood Beach in Oxnard, and they let us use it whenever. By the way, the BEST breakfast in the world is nearby at a place called "Mrs. Olson's Coffee Hut".
Those three SoCal beaches I'm most familiar with (Pacific Beach, Newport Beach and Hollywood Beach) are all very laid-back: and growing up, they really never sounded as glamorous as Malibu. I don't recall Mattel making a "Newport Beach Barbie" that's for sure. "Malibu Barbie" was, and is still (in my opinion), the best Barbie doll ever. I still have mine tucked away, although her "self-tan" is now blotchy and streaky.
I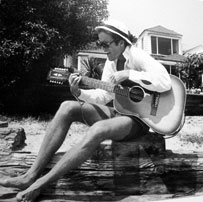 n the early sixties, Roger Vadim and Jane Fonda epitomized the casual (yet still glamorous) Malibu lifestyle that I fantasize about visiting. Photos of them at their Malibu bungalow are included in a book by Dennis Hopper called, "1712 North Crescent Heights". It's one of my favorites: a large, black and white coffee table book filled with photos he took around Los Angeles, before he filmed "Easy Rider". Another favorite shot in the book is of Peter Fonda jamming on an acoustic guitar. He's just sitting on a large piece of driftwood in the sand, looking cool, but I guess everyone looked cool hanging out at the "Colony" back then. It always makes me laugh when celebrities reminisce about living in the "Colony", they never say "Malibu Colony", it's usually just "The Colony", as if no other "Colony" would matter in their world anyway.
From Wikipedia: Malibu Colony was one of the first areas inhabited after Malibu was opened to the public in 1929 and it is one of Malibu's most famous districts. It is located along Malibu Road, westward of the Pacific Coast Highway, on the opposite shore of the Malibu Lagoon State Beach and adjacent to the Malibu Bluffs Park. Long known as a popular private enclave for wealthy celebrities, the Malibu Colony today is a gated community, with multi-million dollar homes on small lots.
The new Malibu spot my friend Laur wanted me to try is called "Charlie's", a steak and seafood restaurant on Pacific Coast Highway (in the former Allegria space). Peter decided to join us for dinner, so we headed out to Malibu on an early Thursday evening. I was surprised the drive from Studio City only took about an hour. Guess what? Malibu's not that far away after all! What was I thinking?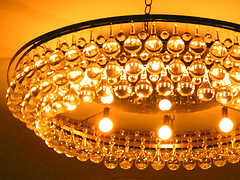 From photos I saw online (before I went), Charlie's looked like a large space, but in reality it's more like an elegant bistro than a classic steak house. The decor is very stylish (leopard print chairs by Dolce & Gabbana) but easygoing at the same time. I'd be comfortable there wearing a cocktail dress and heels or a little sundress with sandals.
The three of us were seated in a beautiful booth with a panoramic view of the restaurant. And I must say, as we sat there looking over the menu and sipping our wine (Fess Parker Syrah), we were as comfortable as any local would be. And looking up from the table was the most beautiful hand-blown glass chandelier. It really gave the room (and us!) a nice glow. We felt great and heck, because of the gorgeous lighting, we looked great too!
Our server Amy was terrific and patiently went through the menu with us. Laur had been to the restaurant several times before, and always ordered the Braised Beef Short Ribs. I was in the mood for pasta and went for the Spaghetti Bolognese (made with veal). Peter went for the manly-named Greg Norman Premium T-Bone.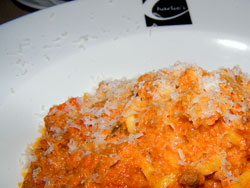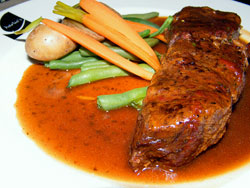 We pretty much shared the six dishes we ordered, including green mussels, crab cakes and a refreshing, roasted beet salad (no photo). I have to say that Laur was right about the short ribs. My pasta was delicious; hearty, savory and perfectly cooked, but next time I'll be having my own plate of those killer short ribs (and not sharing either!)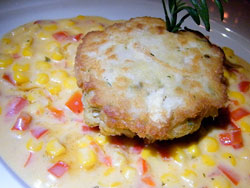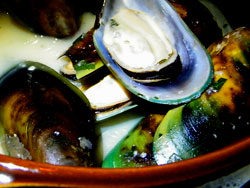 Charlie's, 22821 Pacific Coast Highway, Malibu, CA 90265, (310) 456-3132
— Also published on MyLastBite