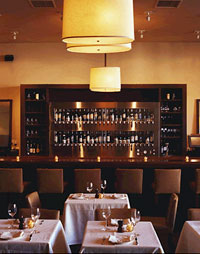 Suzanne Goin, the uber-talented celebrity chef of Lucques and A.O.C. Wine Bar fame, was rumored to be the front runner for the 2005 James Beard Chef-of-theYear award, and as far as I was concerned, she could just skip the swim suit competition and pick up her gold toque and tongs. Because praise the lord and pass the friggin' salt cod, if food could cure cancer, it would be this food. May The God of Good Eatin' please keep Suzanne Goin's hands hale, hearty, and forever heating up the small plates.

Having earlier experienced both the exquisite pleasure and excruciating pain that comes from washing down four or five pounds of Chicken Liver pate with fifteen dollar glasses of 2001 Chateauneuf du Pape, I was careful to prepare my sensitive digestive tract by fasting for practically an entire half-day on Fiji Natural Artisan water, plus a supplemental half-inch rind of smoked salami that I discovered under a plastic tankard of Barefoot Contessa Moussaka that I accidentally made five weeks ago in a bizarre attack of culinary industry. As a note, I have a firm policy of never throwing away any left-over that originally took more than sixty minutes to prepare, unless it starts to stink worse than my daughter's feet did after two weeks at Catalina Camp, where filth is a fashion statement.

I was only able to secure a reservation at the fabulously trendy A.O.C. because I knew somebody who used to go out with somebody who used to have relations with "Sandy," the embittered restaurant manager, who reluctantly agreed to let me have a table at six p.m. on a Friday night just so long as I understood that we had to be wined, dined and out the fucking door by 8:30 p.m.

Usually, when I am faced with this form of West Hollywood humiliation, I avoid sinking into a dank pool of personal shame by hanging up in a huff and immediately calling back to make a reservation in a phony British accent under the name "Madonna." Then I show up and say my name is Sharon "Madonna" and could I be shown to my table, now please, without delay. Naturally, this makes the house staff confused and angry, but I get my table, because they can't afford to admit that they are such blatant star-humpers and I can't help it that my name is Madonna. Well, okay, so it's not, but my married name is Pope and that's pretty frigging close.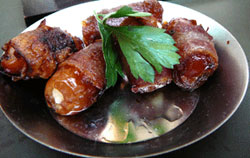 I did not, however, utilize this method on this occasion, because I cannot afford to get grounded forever from all Suzanne Goin eateries, because my husband would kill me with a spear if I prevented his access to A.O.C's Roasted Dates with Parmesan and Bacon, which he has made a very rude point of saying are not just way, way better than sex, but more specifically way, way better than sex with me. In fairness, the dates are roasted and caramelized in their own juices until they're supple and slick and mercilessly sweet, and then they are swathed in thick slabs of smoky salt and flesh, so I guess they might be better than sex with me, but I wouldn't really know since I have never had sex with me, at least not since the seventies.

Meanwhile, the first thing you get at A.O.C. Wine Bar to tide you over while scanning the fifteen page menu, is a plate of weirdly delicate black Nicoise Olives that have been brined in olive and truffle oil for something like a thousand years and then arranged against a mighty plopping of flaming, blood-red Harissa, a North African pepper paste. The bread basket is filled with what appears to be a loaf of butter that has been magically transmuted to grain, so one has to be extra careful not to carbo-load too early. The trick to applied over-consumption at A.O.C. is all in the timing: one must be patient and disciplined and take teeny, tiny forkfuls from teeny tiny tapas plates, knowing from experience that more teeny, tiny tapas plates are forthcoming and that sometime very, very soon one will be glutted and sated and wishing to find a nearby liposuction clinic (there must be three or four on Third Street!) for emergency abdominal-pouch-removal before dessert.

The menu at AOC is described as California Tapas, and is served on "small plates" which are intended to be enjoyed communally — or as described on their website —"family style." Since every small plate costs at least ten bucks, I suggest you have a family that has lots of style, or at least a very solid credit rating. I suppose I don't need to tell you that my family's idea of style is anything you can get for free at my Dads' wholesale business boutique, Dozar Desk and Safe Company, which most assuredly did NOT participate in the sleek, minimal, teak-trimmed decorating scheme of A.O.C. Wine Bar. On the other hand, I'm not saying they didn't pony up some fine, discount filing cabinets for the back room.

As we considered our choices, I politely asked our attractive server for his guidance and recommendations so I could pretend to listen with great interest and then tell him to fuck off. As I learned when I was a first (okay, and only) semester cooking student at the esteemed California Institute of The Culinary Arts, a restaurant will always seek to pawn off at least one daily special out of the meat and fish entrees that didn't sell three days ago because they're this close to a salmonella outbreak. I did, however, take his advice on the majestic azul de Asturia, a pasteurized, unskimmed cows milk blue cheese that is produced at a small factory in the Oviedo province of Spain and then aged for two-to-four months in a cave with maple leaves. Frankly, the cheese was so tangy and lush and redolent of heaven-stink that I am thinking of moving to a cave in Spain myself.

In fact, one of my dinner companions, who understands things about computers that even my computer doesn't understand, became so besotted by the Azul that he claimed he was having a life-changing, pseudo-religious experience. Maybe he will come with me to Spain and we will start a science fiction cheese cave cult group and sign up high-risk teenagers to sell books and magazines about it on Hollywood Boulevard.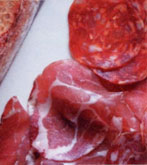 From the cheese, we moved on to more cheese, a Mount Emu Creek sheep gouda and a Sant Gil d'Albio goat cheese, which were, by turn wonderful and marvelous. Then, it was on to our charcuterie courses. The Lomo and Two Chorizo came so austerely arrayed on the plate that it looked like a selection of tiny, ham-colored area-rugs, so I wasn't that inclined to eat them, until I ate them, after which I really wanted to eat them again. Let us just say that the Lomo (smoked pork tenderloin ) was good, the Chorizo was good-er and the Spicy Chorizo, was good-est. Then, as I was the only person at the table who hadn't suffered early nutritional trauma associated with animal internal organs, I personally knocked back each and every granule of the Chicken Liver Crostini with Pancetta, including the decorative frisee and lemon peel garnish. Done, don-er and done-est.

Next came the Cucumber and Avocado Salad with Green Goddess Dressing and the Roasted Beets and Carrots with Chickpeas and Feta. There is something about tripping the tongue with "Green" before moving onto "Goddess" that fills me with the promise of forbidden, alliterated, pagan pleasures, not to mention a watercress, tarragon, garlic, mayonnaise, anchovy, and crème fraiche puree. Holy Religious Icon, bat boy! Still, the Beets combo came in a very close second for succulent vegetations that could possibly suffice as a main meal for those poor suckers who refuse to kill, char and cut up cute, defenseless sentient beings for their own personal eating pleasure.

Which brings me to the fish and meat selections, of which I will only say that the Sautéed Halibut with Leeks, Ramps and Early Morels is an existential exercise in ecru-ecstasy, bringing together a feathery, angel white halibut with subtle, hardly-ever-available, funky-leek-like ramps and mushrooms with some butter, some more butter, and some more butter on top. A cardiac episode on a platter, this dish is practically worth a paralytic stroke or at least the loss of one opposable digit.

By the time we got to the Grilled Skirt Steak with Green Garlic Aioli (Ye gods! That double g alliteration again!) and Brioche with Prosciutto, Gruyere and Egg, I was starting to feel kind of beaten down by the continuing onslaught of perfect food. On the other hand, my highly-charged emotional state could probably be attributed to the third glass of Chateauneuf du pape, which was so clean and cool and chocolately smooth that it seemed to throttle past my thorax without ever passing my lips.

The next thing I knew, I was stabbing one of my dining companions with a sleek dessert spoon in a frenzied attempt to scoop up the last melting drip of lemon ice cream (yes, that's lemon ice cream – not its anemic, turgid cousin, the under-dairied, bloodless, lemon sorbet ) that lay under the final lingering crumb of the shockingly decadent Cherry Crumble.

As the members of our eating team struggled to divide up the check for $462.00, plus tip before being replaced by customers with jeweled sandals and real money, I offered a healthy toast to A.O.C. before chugging down the final half-ounce of 'Neuf du Pape. Hey, that sip was worth at least four and a half bucks! Then as I hobbled from the building, I helped myself to ten or maybe twenty packets of the complimentary A.O.C. stick matches, which I will use to light a candle every night to Suzanne Goin, world peace, and Spanish Cave Cheese-ology.
A.O.C. Wine Bar
8022 W 3rd St
Los Angeles, CA 90048
(323) 653-6359
Sharon Oreck produced rock videos for twenty years. Her memoir "Will There Be Fruit?" will be published in 2008 by Farrar, Straus and Giroux.